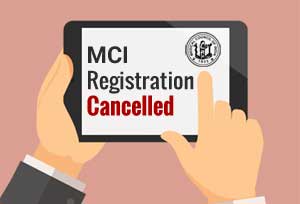 Chandigarh: The president of the Punjab Medical Council is now facing the MCI axe with the latter having cancelled the registration of the doctor for a period of 3 years, according to recent media reports.
Tribune Reports that MCI has cancelled the registration of the Punjab Medical Council (PMC) president, Dr Amar Satinder Singh Sekhon for allegedly furnishing false information to the MCI during an inspection of a medial college for a period of three years.
The case goes back to year 2005, when Dr Sekhon was the Principal of Adesh Institute of Medical Sciences and Research, Bathinda. It has been alleged that the doctor, furnished false information during an MCI inspection, showing one Dr Muktanjali Arya, a private practitioner in Ludhiana as a full time faculty of Microbiology at the Institute. Medical Dialogues team had earlier reported that for the same reason of false appointment of the said microbiology doctor , Dr GPI Singh, Vice-Chancellor of Adesh University, Bathinda, had been suspended by the council. However, his case pertained to year 2011.
................................ Advertisement ................................
Tribune now reports an order for cancellation of registration four medical practitioners for a period of 3 years has been made in the same case. Besides Dr Amar Satinder Singh Sekhon and Dr GPI Singh, the doctors facing action include Dr Muktanjali Arya and Dr V Mohan Besides this, in the MCI order, a warning has been issued to Principal of Sri Guru Ram Rai Institute of Medical & Health Sciences, Dehradun Dr NK Singh.
................................ Advertisement ................................
The daily adds that Speaking about the decision, Dr Sekhon said he was not aware of such decision taking place. The doctor told Tribune "I didn't attend any MCI inspection and I had left the Adesh Institute of Medical Sciences and Research in 2006 and the Dr Muktanjali Arya case started in 2011," he said. He said only communication from the MCI regarding the case was a letter he received in 2016. I had given reply to that. "If they have done so, it is unfair and I was not even given a chance to defend myself," he told the daily.
Read Also: MCI Inspection: Vice Chancellor Registration Cancelled for 3 years, for giving false information
Author Details
Meghna A Singhania is the founder and Editor-in-Chief at Medical Dialogues. An Economics graduate from Delhi University and a post graduate from London School of Economics and Political Science, her key research interest lies in health economics, and policy making in health and medical sector in the country.
She can be contacted at editorial@medicaldialogues.in.
Contact no. 011-43720751
................................ Advertisement ................................
7 comment(s) on Punjab Medical Council President loses MCI License in false information case