Radiologists defer strike for three months after government assurances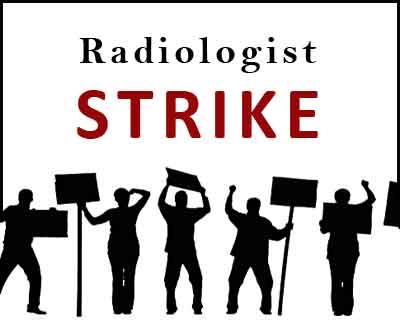 New Delhi: The ongoing strike of 13,000 radiologists across the country, came to a temporary halt today, after the central government provided firm assurances that the amendments to the PC-PNDT Act as well as its uniform implementation would be coming into force within the next two-three months.

Assurances had been received with the IRIA asking for opinion from the respective state chapters. Around 18 state chapters are reported to have opined that this much assurance from Ministry of Health & Family Welfare, Govt. of India is sufficient to defer the agitation for two to three months and wait for further meetings with Ministry of Health & Family Welfare and next Central Supervisory Board meeting and its outcome on amendments to the PC & PNDT Act. If there is not any positive response in that meeting, then IRIA should continue the agitation till its logical end.

Dr OP Bansal, President IRIA said, " Keeping in view the majority of state chapters, Central Council Members and discussion amongst IRIA Central Office Bearers, it has been decided to defer the strike for three months from 3rd September, 2016 and we will keep pursuing the issues by meeting with the officials of Ministry of Health & Family Welfare to get the amendments done/rules changed as per their assurance in a stipulated period of two to three months. If there is no positive development from the Central Supervisory Board and Health Ministry, we shall continue our agitation. We will also put this matter in November Central Council Meeting for further propagation of the cause."

"We thank each and every member of IRIA for showing unity, solidarity and strength shown during the agitation to force the authorities to consider our demands in stipulated period of two to three months," added Dr Bansal

Currently the Act, which was put in place to curb the menace of growing female foeticide in the country, has been plagued by the non- uniform implementation, often leading to unnecessary harassment and prosecution of medical practitioners, on even minor clerical errors. Moreover, within the purview of the act, major powers are given to district authorities, who in the absence of set guidelines/ SOPs, interpret the law differently. IRIA had strongly opposed this asking for uniform implementation of the Act.