Rajasthan : 7 Striking Doctors Arrested , Govt threatens more action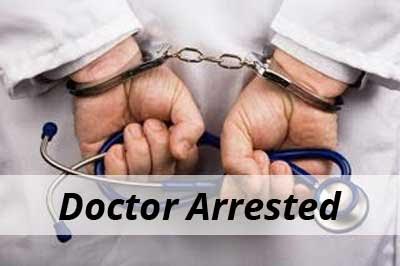 Jaipur: In Rajasthan, the state government has started clamping on government medical practitioners who have been on strike for the last five days. Media reports state the police has started making arrests of the striking doctors, arresting 7 medical practitioners under Rajasthan Essential Services Maintenance Act ( RESMA ) till now.
Amoungst those arrested include
two doctors from Jhalawar, association leaders Dr Naresh Agarwal and Dr Hemant Sharma, both posted at the government hospital in Bhawanimanid town while one doctor has been arrested in Tonk. Also arrested is
Dr. Jagdish Modi from Jaipur. Dr. Modi is the Registrar of Rajasthan Medical Council as well as one of the office-bearers of the Dental Association. Besides this, arrests have also been made in Bharatpur and Sawai Madhopur
"We are zeroing in on top leaders of the All Rajasthan In-Service Doctors' Association, most importantly Dr Ajay Choudhary, who is presently the chief medical and health officer (CMHO) in Churu district and the main instigator," an official told
TOI
. Most arrests are being made under RESMA.
Local police are also
counselling
the doctors asking them to report to work. Medical Dialogues team had earlier reported that the Rajashtan High court had directed the state government to send a notice personally asking them to return to work adding that if the doctors do not return to work even after this, then it shall be considered as contempt of court.
Read more at Medical Dialogues:
Return to Work or face Contempt of Court, Arrest: Govt to Striking Doctors
It is reported that Doctors have been on strike in response to the failed negotiations with the government with respect to the demands . Service doctors had submitted a set of 33 demands including formation of a separate cadre for in-service doctors, Rs 10,000 grade pay benefit to doctors, rectification in salary discrepancy, housing facility and safety for all doctors. However, despite almost 6 rounds of negotiations with the state government, no conclusion was reached
Read Also: 9600 Doctors resign from govt service, State Orders Arrest of Doctors not on duty