Rajasthan doctors strike hit medical services, enters sixth day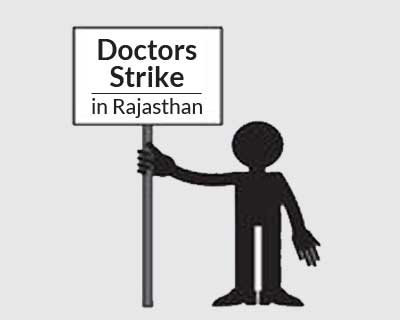 Jaipur: Medical and health services remained crippled in parts of Rajasthan where agitating in-service government doctors continued their strike for the sixth consecutive day despite a warning by the high court to resume work.
Health minister Kalicharan Saraf also asked the doctors to call off the strike and resume work, saying that the demands of the doctors have already been "addressed".
He, however, refused to withdraw transfer orders of doctors, saying transfers are a routine process in the government.
Saraf claimed that the government has accepted the demands of doctors and appealed to them to join their duties.
To a question why the government is not taking strict action such as cancelling the registration of the doctors, he told reporters, "We do not want to get strict as they are also our family members. The doors are always open for discussion; the doctors can come and talk to us."
To another question that why are not the doctors joining their duties despite the Rajasthan high courts order, he said "We will ask the court of what steps to be taken."
He said the dynamic accelerated career promotion, installing CCTV cameras at health facilities, increasing rural allowances of doctors, increasing post-mortem allowance to doctors, approving post for a legal assistant at joint director zone offices, vehicles to chief medical and health officers in phased manner and other demands of doctors have been accepted.
The doctors are accusing the government of not fulfilling the promises made last month and are against the transfer of 12 doctors, including the president of all Rajasthan In- Service Government Doctors Association, Dr Ajay Chaudhary.
The high court had on Tuesday directed the doctors to resume their work and assured them that no doctor would be arrested.
As many as 86 doctors had been arrested before the high courts directive on Tuesday.
The strike has hit the health services across the state and the patients have been left on gods mercy. Major operations in various district hospitals had to be postponed due to the strike.
Services at the SMS hospital in Jaipur also remained affected.
The agitating doctors have gone underground and could not be contacted.
Read also: 
Despite HC Warning, Rajasthan Doctors continue to strike