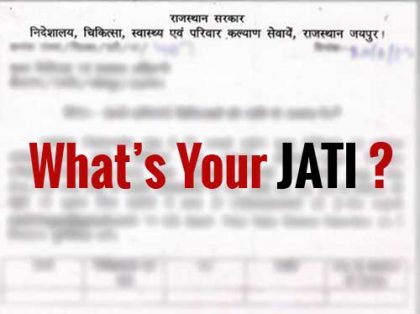 Jaipur: Medical Practitioners working with the state health department were in for a shock, when they received an order from the state government asking them to specify their Jati (caste).
The government notification that was issued on June 20th, 2017, was sent to officials in charge of health centres in four districts – Barmer, Bikaner, Jodhpur and Nagaur, reports TOI. It categorically asks the  officers in charge to highlight the jati (caste) of the various medical officers at various posts of the health centres including district hospitals, community health centres (CMHs) and primary health centres (PHCs) along with their names, designation and duration of their service. The order then goes on to provide a five column table asking for serial number, name of doctor, designation, caste and for how long the doctor has been working in the post have been included.
The notice also depicts a tone of urgency, asking the officers to reply with the information within a day (Aaj hi).
From the moment of its issue, the notification created a furore across all corners . While the officials spent the entire day in denial or refusing to comment on it, in the evening they were seen withdrawing the order and claiming that it was a result of 'confusion'.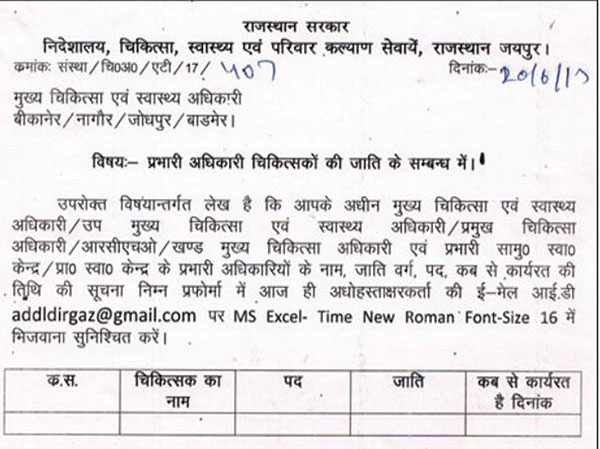 Department's  response
With objections being raised from all sides, health department was seen issuing a clarification on the same evening that it was a clerical mistake
Speaking with TOI, Dr VK Mathur Said, ""It was just utter confusion. We never ask for castes of doctors or healthcare staff. In this letter, we asked for categories like SC/ST, general, specially abled. It was a column for category not caste. It happened due to utter confusion."
However, the clarification seemed to have fallen flat with the medical practitioners as the notice itself had the subject– "Prabhari Adhikari Chitiksakon Ki Jati Ke Sambandh Main (Caste related to in-charge doctors)"
It is reported that before the notice was taken down, official from the health department claimed they had acted on the directives received from the chief minister's office (CMO). "I was asked to issue the orders by higher authorities. I do not know much about it as well as the reasons for it," a health department official said.  Moreover, while the chief medical/health officers of the districts were confused, many complied with the order before it was taken down by the high authorities
4 comment(s) on Shocking: Govt asks doctors to reveal caste, later withdraws order