Bizzarre: Tantric comes and performs rituals in ICU, Hospital orders probe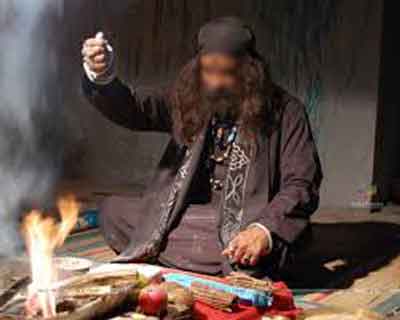 Kota: In a bizarre case, a rooster was sacrificed, lemons quashed and black magic rituals performed by an occult practitioner in a government hospital in a futile bid to bring a dead man back, after which the administration has ordered a probe.
Following the incident, which happened in the presence of medical staff, the hospital has appointed a committee of three members to find why it could not be averted.
The incident is reported to have occurred in the Intensive Care Unit (ICU) of New Medical College hospital here where a tantric (occult practitioner) performed various rituals for around four hours in the presence of medical staff of the hospital.
After the happening came to light, the hospital superintendent ordered a probe into the matter and said that no complaint could be lodged with the police.
A 22-year-old youth, identified as Hemraj had been put on the ventilator for treatment, had died on Tuesday morning.
However his family members reportedly insisted on not taking away the dead body and brought a 'tantrik' in order to infuse life in him.
The occult practitioner came with a sword dangling and along with several other relatives and family members of the deceased entered into the ICU ward and performed black magic rituals near the dead body on ventilator.
He chopped the lemons while chanting some verses and then asked the family members to bring a rooster for sacrifice to bring back life to the dead youth.
The Tantrik beheaded the rooster with the sword there in the ICU, it is learnt.
The family members and the Tantrik were agreed to take away the dead body only after around four hours when all the tricks and efforts of the Tantrik to revive the dead youth proved futile.
The deceased youth was admitted to the ICU of New Medical College Kota on April 8 after with severe head injuries in road accident.
Confirming the incident, Dr S R Meena, superintendent of New Medical College, Kota said all this happened in presence of medical staff and police.
The mob (family members and the relatives of the deceased youth) along with the Tantrik entered into ICU forcibly and performed the tricks of black magic to revive life to the deceased youth, he said. The mob could not be resisted as the matter was "very sensitive", he said.
However no complaint was lodged with the police in the matter as no damage to the hospital property and harm to the other patients in the ICU was caused, Meena said adding a three members committee of the doctors was on Wednesday formed to probe the matter.
The committee would look into the factors as why the incident could not be averted, he said while giving clean chit to medical staff in the matter. The committee would submit its report within three days, Dr Meena added.