Rajasthan: SMS Hospital Plastic surgeon caught doing private practice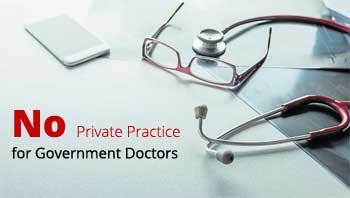 Jaipur: Rajasthan government doctors may soon to face the wrath of medical authorities for doing illegal private practice. The government has ordered the formation of a divisional member committee each division level of the state to initiate the suitable action against the doctors involved in such practice.
Dr GS Kalra, a plastic surgeon with the Sawai Man Singh Medical College and Hospital, was allegedly caught by the officials doing surgery at a private hospital, says the latest report in HT. A three member team has formed by the state government to initiate the further investigation into the case. The special committee comprising SMS Medical College additional principal Dr Deepak Mathur, pathology department head Dr Ajay Yadav and SMS Medical College DLR Dr Prakash Gupta has now submitted its report to the government, with Dr Kalra being sent to health quarters APO- awaiting posting orders.
Further irked with the case, the health minister Kalicharan Saraf has now ordered a crackdown on private practice, directing to form a special committee to look into the issue in each division of Rajasthan. For the same, each division of the state will now have two administrative officers from the concerned division and a doctor of professor nominated by the concerned medical college principal reports HT .The inspection team headed by the respective divisional commissioner, will conduct sudden inspections at private health institutions and recommend penalty on erring doctors.
Medical Dialogues team had earlier reported that a surgeon of Dr Ram Manohar Lohia Institute of Medical Sciences (RMLIMS), Lucknow had received a show cause notice for doing illegal private practice at an unlicensed nursing home in Mohanlalganj.
Read also: Show cause notice to RML Doctor for illegal private practice in UP
A similar case was reported in Himachal Pradesh where Seven government doctors were suspended for their alleged involvement private practice and willful absence
Read also:  HP: 7 govt doctors suspended for private practice, more under lens