Ranchi: Ratan Tata and Jharkhand CM lay foundation for cancer hospital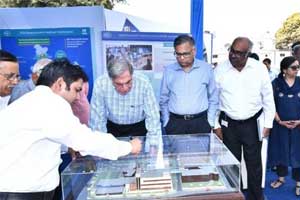 Ranchi: A foundation to build a cancer hospital cum research centre in Ranchi was laid by Ratan Tata and Chief Minister Raghubar Das on Saturday.
The function was held in Kadma Maidan Sukuhutu Road. The hospital will come up in the premises of the Ranchi Institute of Neuro-Psychiatry and Allied Sciences (RINPAS). The government has decided to give 23.5 acres of land to the Tata trust for a period of 30 years.
The State's Health Minister Ramchandra Chandravanshi, Ranchi MP Ramtahal Chowdhary, Kanke MLA Jeetu Charan Ram and Chief Secretary Sudhir Tripathi was present during the event to set up cancer hospital.
Jharkhand lacked the robust cancer treatment infrastructure; the health department approached the Tata trust to handhold in setting up health care centres.
Officials informed the agency that 50 per cent of the beds in the hospital will be reserved for the people of Jharkhand and special facilities will be provided to those covered under the state's insurance schemes.
The idea of the putting up of the cancer hospital was kept forward in the Momentum Jharkhand Global Investment Summit held in February 2017 where the state government approached Tata to build a cancer care centre.
Jharkhand health secretary Nitin Madan Kulkarni said that the
hospital
is expected to become operational by 2022.
"Once operational, it will cater to thousands of cancer patients of Jharkhand who visit different states for treatment every year," Kulkarni informed
TOI
.
Read Also: NBCC bags Rs 902 crore contract to build AIIMS in Deogarh, Jharkhand