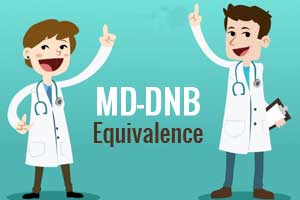 New Delhi: Diplomate, National Board (DNB) candidates pursuing their PG medical specialisations from large private hospitals across the country have a reason to rejoice, as the government and the MCI Board of Governors have finally moved to establish MD-DNB equivalence.
With the move, a long battle for DNB candidates, which had ensued after the MCI gazette notification of June 5, 2017, changing the rules, finally comes to a victorious end.
Read also: MCI knocks DNBs out of academia
While the official document is yet to come, confirmation to this effect comes in the Daily Tribune, which has reported that the Health Ministry on Tuesday approved the long-standing demand of the Diplomate of National Board PG holders for equivalence with MS and MS counterparts. Earlier, the MCI Board of Governors had given its nod to MD-DNB equivalence
Medical Dialogues team had earlier reported that the issue of MD-DNB equivalence had become of the biggest bone of contention between the union government and the erstwhile members of the Medical Council of India. The Government has made its intention clear of providing equivalence to DNB candidates from large private hospitals ( more than 500 beds) to enter the pool of medical academia (Read- DNB will be Equivalent to MD in ALL Respects: Health Ministry Clarifies on NMC Bill) while the council has been clearly stuck on its stand of making such candidates do an additional 3 year residency in medical colleges, in order to become eligible for faculty posts.
"MCI refused to count DNB course duration as work experience for teaching jobs," a health ministry official explained to the Tribune.
The issue of equivalence was also the first and foremost matter that was taken up by the MCI Board of Governors, who took charge of the council activities after the government ordered the MCI dissolution.
With both the council and the Centre's nod to the equivalence, around 2000 DNB candidates will be immediately available to join as medical faculty in medical colleges, and will indeed provide respite to the suffocating shortage of medical teachers in the country.
What to Expect?
While the official notification is yet to come on the current stand, the Union Health Ministry, earlier in a clarification to Association ANBAI, had unveiled its plan for what equivalence would entail in the impending National Medical Commission
"DNB qualifications when granted in a medical institution with attached hospital or in hospital with at least 500 beds, shall be equivalent in all respect to the corresponding PG/SS qualification and in all other cases, senior residency in a medical college for an additional period of one year shall be required for such qualification to be equivalent." the notification had stated
Read Also: DNB will be Equivalent to MD in ALL Respects: Health Ministry Clarifies on NMC Bill
27 comment(s) on Rejoice: MD-DNB equivalence is finally here