................................ Advertisement ................................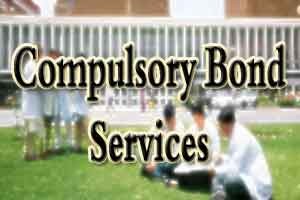 Kerala : Doctors shirking away from the compulsory government services may soon face serious consequences as the state government has decided to take severe action including legal revenue recovery proceedings against those violating the government bond conditions.
An announcement to this effect was made by the state health secretary Rajeev Sadanandan, who stated that strong legal action will be taken against those medical practitioners who are violating the conditions spelled out in the bond regarding the compulsory government service. He confirmed the news after a meeting of officials held at the Government Medical College Manjeri, informing that many students are reneging from the conditions of the bond and were ready only to serve in hospitals of their choice.
"We cannot agree with the stand of doctors and the government is planning to take strong legal action including revenue recovery against those who are violating the conditions", the secretary informed TOI. The health minister is also reported to have been present in the meeting.
The bond, which is signed by MBBS students, at the initiation of their study requires them to do compulsory government service post completion, or pay a penalty. The government is reported to have maintained a stand, making government service compulsory since crores of rupees is spent on educating medical students and the education they receive in government colleges is substantially subsidized for their benefit.
The compulsory government service bond was introduced in Kerala in the year 2008 in the wake of shortage of doctors, a concern that still continues to haunt the government hospitals of the state.  A similar situation is prevailing in many other states across the country, where doctors are opting out of their bond contracts, particularly those that require doctors to serve government services in rural areas.
................................ Advertisement ................................
Read Also: Majority doctors opt off Compulsory Rural Service bond : RTI Reveals
Meghna A Singhania is the founder and Editor-in-Chief at Medical Dialogues. An Economics graduate from Delhi University and a post graduate from London School of Economics and Political Science, her key research interest lies in health economics, and policy making in health and medical sector in the country.
She can be contacted at meghna@medicaldialogues.in.
Contact no. 011-43720751
................................ Advertisement ................................
0 comment(s) on Revenue Recovery Proceedings against doctors violating Compulsory Bond Service