Review user charges: Health ministry asks AIIMS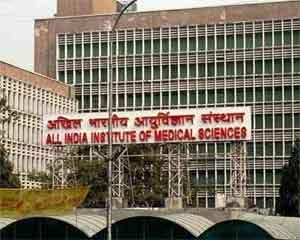 New Delhi: The health ministry has asked the AIIMS to review its user charges, even as the institute is planning to do away with charges on diagnostic procedures, like blood tests and X-rays, which cost less than Rs 500.
On the directions of the Finance Ministry, the Union Health Ministry had, a number of times, asked the All India Institute of Medical Sciences to review and revise its user charges which have not been changed in the last 20 years.
A letter from the health ministry to the AIIMS said, "Kindly refer to the ministry's letter dated March 14 and subsequent reminders dated April 11, May 5 and August 4, 2017 regarding review of user charges of autonomous bodies."
"The requisite information from the institute is still awaited. There has been a considerable delay and the department of expenditure is pressing very hard for the information," it stated.
According to a senior government official, the Prime Ministers Office wants user charges at all government institutes to be reviewed.
Another official said every year, the AIIMS demands for additional allocation amounting over Rs 300 crore, in non-plan expenditures, including for consumables, maintenance and salaries among others, which are of recurring nature.
There are huge deviations between budget estimates and revised estimates.
"The finance ministry has asked the AIIMS to conduct a review of its user charges which have not been revised since 1996," the official said.
However, an internal committee, constituted to review the user charges at the hospital, has recommended against charging money for tests and procedures which cost less than Rs 500 at the institute.
It has suggested that private ward charges at the AIIMS should be increased to make up for the loss as their rates are less than semi-private wards in corporate hospitals that can be accessed by people under Central Government Health Scheme (CGHS).
As far as increasing fees for diagnostic tests on basis of income is concerned, the committee said there were challenges in identifying the economically weaker sections of the society and recommended that differential fee arrangement should not implemented.
"It would be very difficult to provide equitable services to all economic sections of the society through a differential fee arrangement. Out-of-pocket payment at the point of care is the most important reason why healthcare expenses turn catastrophic for all users," the committee said in its report.
Around 10,000 people visit the out-patient department of the AIIMS every day and at any given time, more than 2,000 patients are admitted to the hospital.
The hospital currently generates Rs 101 crore from user charges which include OPD charges, diagnostic tests in various departments, radiology charges, in-patient care and room rentals. The cost of many routine tests at AIIMS ranges between Rs 10 and Rs 25.