RML Hospital: Patient's family assaults female Resident doctor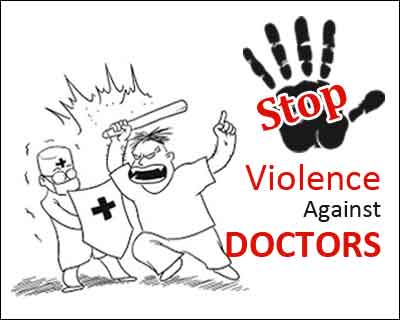 New Delhi: In an unfortunate event for the medical fraternity, a female resident doctor, who is a postgraduate trainee in medicine department Dr RML hospital, Delhi was allegedly beaten mercilessly by the relatives of the patient recently.
In response to the incident, the students and doctors from Dr RML hospital ensued protests. Federation Of Resident Doctors Association India (FORDA) has also extended support to the victim doctors and the protestors.
According to a PTI report, the incident took place on April 2nd when one of the patient's relatives slapped a female doctor over an argument over tests. The doctors had informed the patient's family members about all sort of tests that she needed to undergo.
Read Also: Keonjhar: Female AYUSH doctor assaulted by police
As per the doctors at the hospital, an 18-year-old patient suspected of Aneurysmal bleed was being treated and was recovering,. Unhappy with the recovery speed, the relatives decided to leave against medical advice. The female resident doctor tried to provide treatment and progress report so that the patient doesn't lose her time in reinvestigation at some other hospital and was brutally attacked by a well learned and qualified advocate accompanying the patient and threatened the doctor of dire consequences.
Read Also:New Delhi: RML Hospital radiologist commits suicide, names three doctors in suicide note
Subsequent to the incident, the administration at the hospital filed a complaint with the police. "In the past six months, this is the fourth incident at the RML Hospital wherein a doctor has been assaulted," a senior doctor informed PTI adding that the administration has lodged a complaint in this regard.
Read Also: Raiganj: Doctor assaulted after patient's death
While condemning the assault in strongest terms, FORDA expresses its solidarity with the victim and protesting students and doctors from Dr RML hospital and urges upon the Government of Delhi NCT to take immediate measure to apprehend the
perpetrators of such heinous crime and ensure that expeditious justice is meted out to them as per law.
Speaking to Medical Dialogues, Dr Sumedh Sandanshiv, National President, FORDA said, "It is very unfortunate that the people we serve are the same people who are trying to annihilate us. It is very saddening and spine-shivering to have learnt that a postgraduate trainee in medicine was attacked, beaten mercilessly. The state of lawlessness has allowed such kind of criminal activities in hospital premises. It is also very disheartening that after committing such heinous crime the culprits walked away unscathed and that encourages more attack on health care professionals especially doctors Doctors are being targeted and attacked again and again but the administration has failed to provide a safe and secure working environment. All over country doctors are facing violence and it is increasing day by day."