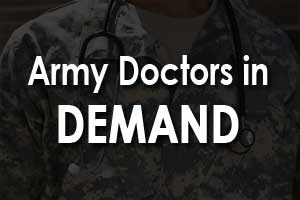 Dehradun: Suffering from an acute shortage of medical practitioners, particularly at remote and hilly areas despite taking all measures, the Uttarakhand government is now looking upto retired army doctors to fill in its vacancies.
As a massive incentives for such doctors, the state government has announced a double the normal salary package. Such doctors can earn upto as much as Rs 1.85 lakh, depending on their speciality.
Hindustan Times reports that the state is currently battling with a shortage standing around 60% with only 1100 doctors against 2700 sanctioned posts. Despite the government imposing compulsory rural service and repeatedly advertising for vacancies, still it found no takers for its hilly area centres.
With the acute shortage, the government is now looking at retired army doctors, and has decided to offer them a higher an increased salary of doctors up to of 50 percent.
HT further reports that initially, a pay package ranging from Rs 50,000 to Rs 1.25 lakh depending on their specilization was proposed.
"However, the army doctors sought a further hike in the package according to their specialization. Accordingly, the proposed package was hiked by up to 50% along with offering free accommodation for them wherever available," a health department source told the daily.
With the government's revised proposal, the doctors will get higher salaries according to their specialities. As neuro-surgeons are likely to be offered Rs 1,85,000 while specialists would be offered Rs 1,75,000. The MBBS and diploma doctors are likely to get Rs 1,50,000
Medical Dialogues team had earlier reported that the state government took the strict action against the 240 doctors who were failed to comply their duties in rural areas.
Read also: Uttarakhand: 240 Doctors May face Suspension
Read also: Uttarakhand: Compulsory Rural postings for passouts of Doon Medical College
17 comment(s) on Rs 1,50,000 to MBBS; Rs 1,75,000 to specialist: Uttarakhand offers retired Army doctors