Saifee inaugurates first of its kind LASIK suite in India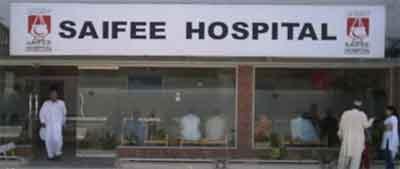 Mumbai :Saifee Hospital has recently inaugurated a state of art LASIK suite . This suite is brightly colored keeping in mind with the hospital's interior and will house the latest Microscan Visum 500 Excimer machine. This advanced instrument has been specially imported from Moscow, Russia and will be used in conducting laser eye surgeries exclusively at Saifee's Ophthalmology Department.
Saifee Hospital is the first hospital in India to procure this state-of-the-art LASIK equipment. The Microscan Visum 500 Excimer is a user friendly machine with applications such as Advanced Surface Ablation (PRK), Topo-linked CUSTOM LASIK, Wavefront-guided Ablation, Therapeutic PTK and Wavefront-optimized LASIK.
Speaking on the occasion, Dr. Mehmood Hussein, Head of the Dept. of Ophthalmology at Saifee Hospital says, "At Saifee, it is our constant endeavour to use latest medical equipments to provide the best treatment at affordable to every patient. With the newly introduced LASIK suite, we are sure to conduct maximum cases each day."
The LASIK suite will be fully functional by September 6, 2016 at Saifee Hospital and will be largely used to conduct laser eye surgery to treat near-sightedness, far-sightedness and astigmatism.  This is pain-free procedure and usually completed within 15 minutes for both eyes resulting in improved vision. The machine is user friendly and the maintenance is comparatively easier.