SC to hear plea in connection with doses of TB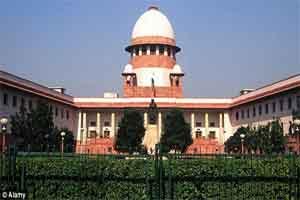 New Delhi: The Supreme Court will hear the plea filed by Dr. Raman Kakkar in connection with doses of Tuberculosis.
Earlier apex court asked the Centre to implement the new tuberculosis protocol saying if the drug combination is the same then why can it not be given on a daily basis instead of thrice a week.
Bench headed by Chief Justice J. S. Khehar, also comprised Justices D. Y. Chandrachud and L Nageswara Rao.
The apex court was hearing a PIL filed by doctor and tuberculosis specialist Raman Kakkar, seeking change in the protocol for treatment of TB in the country.
The plea claimed that the current practice of giving three doses of medicine every week should be replaced with the traditional and time-tested daily dose regimen.
Describing the technique adopted by the department concerned as "unscientific" and "improper", he said the present tuberculosis protocol stipulated only an inadequate medicine regime to cut costs, adding that it promoted relapses and generated a lethal drug-resistant strain in the body of the patient.
He claimed over 10 per cent of tuberculosis patients suffered relapse compared with the global average of three per cent, noting that the relapsed cases were harder to treat than first-time infections.
"A category II patient (one whose disease has relapsed) in India is given only 24 injections (of the antibacterial streptomycin) while everywhere else in the world such a patient generally gets 60 injections," the petition said.
As per the reports, in India, TB kills more adults than any other infectious disease with reported 2.2 lakh deaths in 2014 and one death occurring almost once in 1.5 minutes.
India is the highest TB burden country with World Health Organisation (WHO) statistics for 2011 giving an estimated incidence figure of 2.2 million cases of TB for India out of 9.6 million cases.
The Government of India along with the Revised National TB Control Programme (RNTCP) and the Initiative for Promoting and Affordable Quality TB Tests (IPAQT) is making some headway in combating tuberculosis.
There is also a voluntary organization named Tuberculosis Association of India set up in February, 1939. It is also affiliated to the government India and is working with TB Delhi cente
It said that while more than 20 lakh TB cases were reported at government hospitals each year in the country, the number of such patients in Faridabad was between 3,500 and 4,000 each year.