SCB Med College doctor held in disproportionate wealth case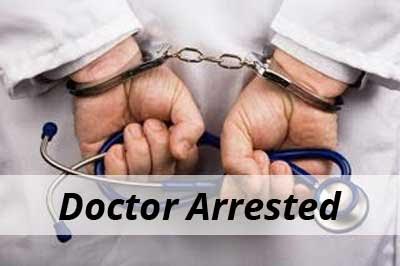 Bhubaneswar: The head of Clinical Haematology Department of SCB Medical College and Hospital in Cuttack has been arrested on charges of misappropriation of Odisha State Treatment Fund (OSTF) running into several crore, vigilance department officials said.
The anti-corruption vigilance sleuths arrested Rabindra Kumar Jena who was on the run since the vigilance department booked two cases against him.
Jena was arrested near Laxmannathpur in Balasore district last night while returning to Odisha from West Bengal, they said.
Jena had been sent to jail after his bail petition was rejected by a vigilance court, said M Radhakrishna, a senior officer in the vigilance directorate in Cuttack.
He said the vigilance department has prayed the court for a 5-day remand of Jena.
Jena was accused of obtaining pecuniary advantages from pharmaceutical companies for foreign tours and accommodation abroad and on other allegations of criminal misconduct and corruption.
In the course of the enquiry, vigilance sleuths conducted simultaneous searches on 12 places including his residence on December 12.
During the search, huge assets disproportionate to his known sources of income and many other incriminating documents were unearthed.
Based on the findings of the search and further enquiry, Cuttack Vigilance Cell Police Station has registered a case under various sections of the Prevention of Corruption Act, 1988 against Dr Jena for possession of disproportionate assets amounting to Rs 4.39 crore, which is an excess of 219 percent of his known sources of income, an official statement said.
Medical Dialogues team had earlier reported that the state vigilance wing has arrested an assistant professor of SCB medical college on charges of cheating and misappropriation of funds.
Read also: Assistant professor, SCB medical college arrested for showing Undue favour to pharma Cos