Security Issues: SR Dermatology stabbed outside gates of Hamidia Hospital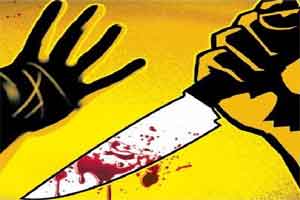 Bhopal: Just a few days after a female PG medico at the Gandhi Medical College was robbed and attacked within the premises of her own hostel room, a Senior Resident with the dermatology department of the associated Hamidia Hospital was attacked with a knife at gates of the hospital .
The attack took place in the morning hours as the SR dermatology, Dr Daya Shankar Tripathi, was on his way from his house to the duty. As soon as he reached the gates of the hospital, he was attacked by an unknown man with a handkerchief wrapped around his head who held him and started beating him. The doctor was then stabbed on his hand and thigh.
Seeing the attack on the medico, the people around gathered to come to the doctor's rescue. As soon as the miscreant saw people gathering around, he fled the scene.
As soon as the information about the knife attack spread, more doctors gathered demanding stepping up of security at the campus. Medicos associated at the medical college and hospital have been pointing out to the lack of security for doctors at the campus and had even gone on strike recently demanding the same.
Police have lodged a case against an unidentified person and are now going through the CCTV footage to identify the culprit
Medical Dialogues had earlier reported that the dean of the medical college had resigned after the strike of doctors earlier this month. The dean had come under fire from the medical students and junior doctors at Gandhi Medical College and associated Hamidia Hospital after a female medico was robbed and molested inside her own hostel room.
Also Read: Gandhi Medical College Medico Robbed, Molested in Hostel Room; Angry Junior Doctors Shun Work
The medicos who had gone for a four day flash strike demanded the resignation of both the dean as well as the hostel warden as well as stepping up of security at the premises
Also Read: Gandhi Medical College Molestation Case: Angry medicos demand the dismissal of dean, hostel chief warden