Selective ban on private practice by Doctors in Kashmir, Doctors call it absurd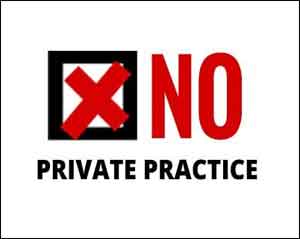 Jammu and Kashmir: The state government constituted committee has decided to implement ban on private practice of HODs of Government Medical Colleges, Dental Colleges and other hospitals while allowing other practitioners continue in the dual-practice setup. This move has been met with strong oppositions from the Doctors Association Kashmir (DAK), which has opposed Selective ban on private practice by Doctors in the state
"Refraining only HODs from private practice won't help. There has to be a blanket ban on the practice of all doctors. It is ironical that doctors who are appointed full time for public hospitals are allowed to run their private clinics," DAK president Dr Nisar ul Hassan said. He said the private practice has eaten away government hospitals and is the root cause of healthcare mess. "Patient care is the greatest casualty because of dual practice of doctors.
Doctors spend most of their time in their private clinics and are not available for patients in government hospitals," he said. The DAK president said their attention and time is directed more towards their private clinics. "They use public hospitals as recruiting grounds for practice and orchestrate scenarios to generate business for their clinics. Dual practice creates pervasive incentives for doctors to increase waiting time in government hospitals so that patients are forced to go to private hospitals," Dr Hassan.
He said doctors misuse the hospital resources for their private patients at the cost of poor patients who cannot afford private consultation. "Various committees from time to time have stressed that private practice should be banned," he said. "MCI puts bar on private practice of doctors in all health institutions. Even the courts have observed that the academic character of health institutions gets damaged and the profession of healthcare gets affected by private practice," he added.