Show cause notice to RML Doctor for illegal private practice in UP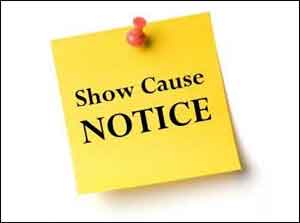 LUCKNOW: In a recent case of medical rules violation, a surgeon of Dr Ram Manohar Lohia Institute of Medical Sciences (RMLIMS), Lucknow has received a show cause notice for doing illegal private practice at an unlicensed nursing home in Mohanlalganj.
TOI reports that the said matter came into the light after a team from the office of CMO  initiated  an inspection at Parag Nursing home in Mohanlalganj, where the team found that the nursing home was functioning without licence and none of the staff members were qualified. "Besides, a number of other anomalies were also found. The team found nine patients undergoing treatment at the nursing home," said Dr GK Bajpai.
Dr Bajpai said that when he reached at the Parag Nursing home he found Dr Sudhir was working at the nursing home. Dr Sudhir had done a patient's surgery at the nursing home.  Dr Bajpai informed TOI,"The staff of the nursing home told the team that Dr Sudhir is a surgeon at RML hospital. We verified the claim by making a call on the contact number of Dr Sudhir. Since private practice by government doctors is unlawful, a show cause notice should be issued to Dr Sudhir,"
Private Practice by government medical practitioners is banned in many states including UP as well sa Himachal Pradesh. Medical Dialogues team had earlier reported that the seven government doctors in Himachal Pradesh had been recently suspended for their alleged involvement private practice and wilful absence.
Read also: HP: 7 govt doctors suspended for private practice, more under lens