Shri JP Nadda visits Kerala, reviews relief and rescue measures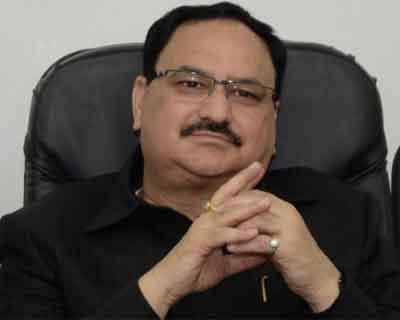 We are extending all support and assistance to the State: J P Nadda
New Delhi: Shri J P Nadda, Union Minister for Health and Family Welfare today visited Kerala and reviewed the relief and rescue measures. Smt Preeti Sudan, Secretary (Health) and other senior officers from the Health Ministry also accompanied the Union Health Minister. Shri J P Nadda reviewed the flood situation during a meeting with Smt. KK Shailaja, Health Minister, Kerala and officials of the State Government. During his visit, Shri Nadda expressed grief and sorrow on the ill-fated deaths and damage caused to lives and property due to floods.
Shri Nadda said that under the leadership and guidance of the Prime Minister, Shri Narendra Modi ji, all the possible measures for flood relief in Kerala are being taken up and the Prime Minister himself is monitoring the situation. Shri Nadda further said that the Health Ministry is continuously monitoring the public health situation arising out of floods in Kerala.
Read Also: 
JP Nadda reviews relief measures in flood-hit Kerala
The Union Health Minister also visited Chalakkudy Taluk Hospital and interacted with the patients. Later, Shri Nadda visited the relief camps at VR Puram and Mullassery and assured all support and cooperation to the State.
To meet with the situation,50 medical doctors were kept on standby for deputation to affected areas at short notice.12 public health teams, each team comprising of a Public Health specialist, Microbiologist and an entomologist were kept ready.48 essential emergency drugs were kept ready for immediate dispatch.
On the request of the State Government, the first tranche of 48 essential emergency drugs, weighing about 73 MT, were airlifted by Indian Air Force. This included one crore chlorine tablets which was further augmented by another 1.25 crores of chlorine tablets (total 2.25 crores). 20 MT of Bleaching powder was made available to the State, which was further scaled up by another 60 MT (total 80 MT).
Request for supply of 4 lakh sanitary napkins received from the State was delivered at Trivandrum. Insecticides and larvicides and fogging machines were also mobilized and delivered to the State. Further, 40 fogging machines were also procured and delivered later.
The norms were especially related to the exigencies of the circumstances and approval of the additional amount of Rs 18.71 crore was accorded to the State through National Health Mission (NHM), as per their request. On further request, 58 items of essential drugs including drugs for managing non-communicable diseases, most of the items in this consignment of about 120 MT, were delivered to the State. In the wake of increase in number of cases of Leptospirosis, Kerala has been provided with 18,00,000 capsules of Doxycycline-drug used for prophylaxis and treatment of leptospirosis.
40-member psycho-social teams have been deployed from NIMHANS, Bengaluru, for rapid psycho-social assessment and community based Psycho-social care. These teams have so far sensitized 5353 volunteers on Community based psychosocial care; 65155 survivors of disaster have been supported through psychosocial first aid program; 17140 individual sessions and 2335 group sessions were carried out. 396 subjects were referred for psychiatric care/ psychological counselling to higher centres.
30 specialist doctors, 20 General Duty Medical Officers and 40 Malayalam speaking Nurses have been deployed to flood-affected districts for providing medical care. These doctors are posted in Palakkad, Malappuram, Kozhikode and Ernakulum District working in district hospitals/ Taluka hospital providing medical care.
Indian Red Cross Society (IRCS) and its State branch are also providing assistance to the State.5000 volunteers of IRCS participated in search and rescue operations. They have supplied tents (300), tarpaulins (2500) and utility items such as sarees (3000), blankets (3500), bedsheets (4000) etc. including three water treatment units (capacity 700 litres/ hr).
National Centre for Disease Control is monitoring the outbreak situation. An event-based daily reporting for epidemic-prone diseases is followed from 21st August 2018. The Strategic Operation Centre has been activated.
EMR division is monitoring the situation arising due to spurt of cases from Leptospirosis, Dengue, Chickenpox and Acute Diarrhoeal Disease (ADD) on daily basis.