Stakeholders should come to consenus on AIIMS location: Minister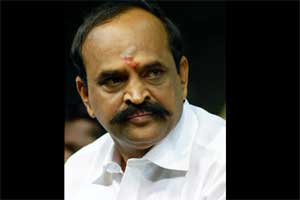 Tirunelveli: The Tamil Nadu minister for Information and Public Relations Kadambur C. Raju  said the government expected that all stakeholders would come to a consensus on choosing the location for setting up an All India Institute of Medical Sciences in the state.
 Responding to reporters' questions on the proposed AIIMS project, the minister said central government's schemes that are beneficial to Tamil Nadu will always get the support of the state government.
"We are opposing only the Centre s National Eligibility cum Entrance Test (NEET) for medical admission as it is against the interests of Tamil Nadu students," he said.
Union Minister Ashwini Kumar Choubey has recently asked the state government to speed up the process to identify the location for setting up AIIMS, as announced by the Centre some time ago.
Referring to the health sector in the state, Raju said Tamil Nadu stood second at the all India level, next only to Kerala.
He was speaking to reporters after inaugurating a Healthcare centre at Melapalayam.