Plastic Surgery SR booked for allegedly taking Rs 22 lakh from aspirants in lieu of Railway jobs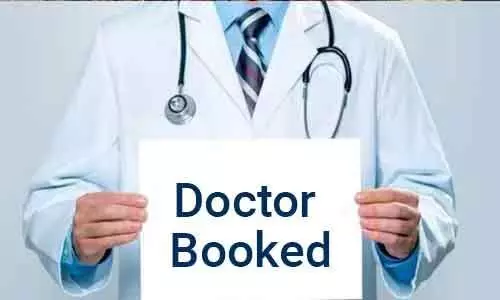 Guwahati: A senior resident doctor attached to the Assam Medical College Hospital (AMCH) was recently booked for allegedly taking money from aspirants in lieu of jobs in the Northeast Frontier Railways. The woman doctor allegedly took Rs 22 lakh from three people promising them jobs.

As per various media accounts, the alleged cash-for-job scam was busted after a telephonic conversation of the doctor went viral on social media where she was heard asking for money for jobs in NF Railway. She reportedly used her driver for the collection of money from the candidates.
The doctor has been identified as a resident surgeon at the plastic surgery department. She allegedly enticed job seekers stating that she has links with a minister and can get the job in the Railways, claimed an individual from whom the doctor took the money.
The doctor allegedly made false promises to three people including one Amol Nath and took Rs 22 lakh from them.
Also Read: Doctor, Wife Booked By CBI For Allegedly Amassing Illegal Assets Worth Rs 30 Crore
Speaking to The Hills Times, Amol Nath stated, "Doctor's driver stays in front of our house and one day he told us that he can help to get Railway job. He connected me to the doctor and she told that she has contact with minister to help us to get railway job. She told us that for that process Rs 7 lakh will be needed. I have given Rs 3 lakh cash to her and another Rs 3 lakh was given through bank transaction".

"She has taken Rs 22 lakh from us instead of giving job. When I asked her to return our money back, she threatened us with dire consequences and told that she was close to one Assam minister," he added.
Meanwhile, Prateek Kumar Thube, Dibrugarh superintendent of Police told The Northeast Today, "An FIR was filed at Gabharupathar police outpost on Sunday by one Amol Nath alleging that she had taken Rs 6 lakh against the doctor for providing employment in railway. Based on the complaint, we have registered a case no 2150/2020 under sections 120(B), 420, 409 and 506 of IPC at Dibrugarh police station".
When asked about the viral telephonic conversation, AMCH principal and chief superintendent Dr. Sanjib Kakoti told The Northeast Today, "I have only heard about it via media. The case has no connection with AMCH. The doctor against whom the allegations have been made is currently on casual leave and is in Guwahati for some urgent work".

Reportedly, the doctor returned some of the money back. However, Dibrugarh police are investigating the matter.
Source : with inputs