Serious lapses in admissions in medical colleges in Bihar: CAG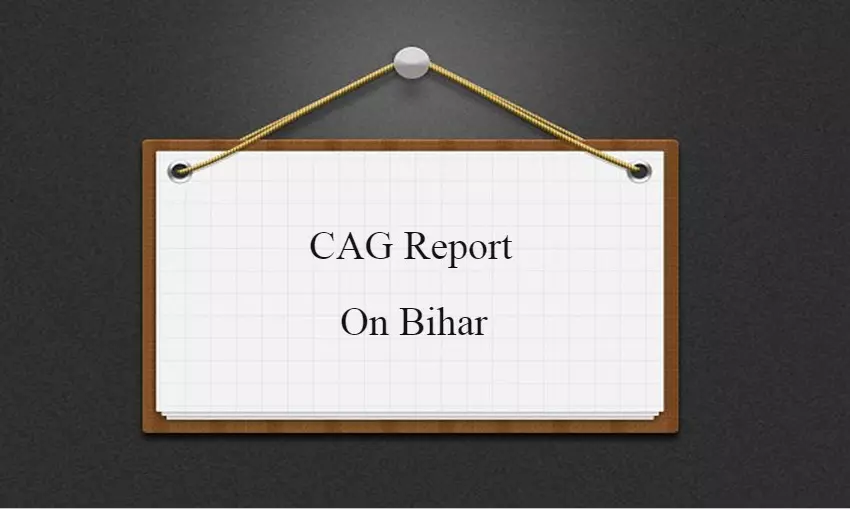 Patna: The Comptroller and Auditor General of India (CAG) has pointed out several severe deficiencies in its report including irregular admission, admission on false mark sheets, admission through fraudulent practices, irregular admission on beyond sanctioned seats in Patna Medical College (PMC) and so on among several drawbacks in the functioning of the Bihar Government.
CAG, in its report, the year ended 31 March 2018 included the findings of performance audit and compliance audit of the departments of the Government of Bihar under the General, Social and Economic Sector Services.

CAG has been empowered to audit all receipts and expenditure of the Government of India and the State Governments.

Mentioning that Bihar is the third most populous state in India, the CAG report mentioned the findings of NITI Aayog, as per which, "Bihar was placed at lowest ranking in key inputs/processes domain which relates to the availability of health systems, service delivery, accreditation, etc. and third lowest in health outcomes domain which includes Still Birth Rate, Neonatal Mortality Rate, Under-five Mortality Rate, Maternal Mortality Ratio (MMR), Total Fertility Rate (TFR), Low Birth Rate, Sex Ratio at Birth, immunization coverage, institutional deliveries, tuberculosis cases and treatment success rate and HIV patients."
Also Read: No admissions at 40 Ayurveda hospitals in Rajasthan for last 5 consecutive years: CAG

The CAG report submitted before the State assembly a few days ago mentioned that it noticed deficient monitoring and supervision of the Department and the medical institutes and it resulted in "irregular admission, admission on false mark sheets, admission through fraudulent practices, irregular admission on beyond sanctioned seats in Patna Medical College (PMC), Patna and Government Ayurvedic College (GAC) Begusarai and non-formulation of rules/regulations for the implementation of the Bihar Combined Entrance Competitive Examination (BCECE) Act, 1995."

The findings related to medical education in Bihar included the fact that against the construction of 12 medical colleges (including one dental college) taken up during 2006-07 to 2016-17 under State Plan, Centrally Sponsored scheme and Saat Nischay, only two medical colleges became functional till 2018 due to the absence of effective planning.
The scene for nursing education has not been found to be satisfactory as well. Only two nursing institutes could be completed till 2018 against the planned 61 (total 126 nursing institutes till 2020-21).
The audit report also mentioned that the Bihar Government didn't make any effective efforts to increase the seats of the existing medical colleges as well.
Highlighting the shortage of teaching and the non-teaching staff in the State, the CAG report mentioned that "Shortage of teaching and non-teaching staffs in all streams of medical education ranged from six to 56 per cent and eight to 70 per cent respectively against the prescribed norms." This led to the shortage of teaching hours as against the prescribed norms of erstwhile Medical Council of India (MCI), now National Medical Commission (NMC).
Further, mentioning the increasing vacancies of physicians, AYUSH doctors, dentists, and nurses in the State, the Audit report pointed out the insufficient infrastructure in medical, AYUSH, and nursing colleges.
"Significant deficiencies in infrastructure (classroom, library, laboratory, hostels, etc.) vis-à-vis norm of regulatory bodies were noticed during joint physical verification, which created an environment not conducive to academic pursuit," the Audit report added.
On a shocking note, the audit report also found a severe shortage of medical equipment in the medical colleges of the State. After a test-check on five medical colleges, it was found that the shortage ranged between 38 to 92 per cent in 20 test-checked departments of medical colleges during 2017-18. Such departments included two departments of Indira Gandhi Institute of Medical Sciences, Patna, eight departments of Government Medical College, Bettiah and one department of Darbhanga Medical College.
Further, the report mentioned "Instances of equipment lying idle or out of order for a period ranging from one to nine years. The machines were idle or out of order as there was unavailability of technical manpower to operate machines and effective steps not taken for repairing."
The financial management on the part of the Government of Bihar has not found to be satisfactory as well. The report mentioned that from the funds for the creation of infrastructure and procurement of equipment, "only 75 per cent amount was spent under plan head during 2013-18 which is attributable to poor progress of construction works taken up under different schemes of State Government."
The report also revealed a total amount of Rs 78.47 crore excess payments/ inadmissible payments for security, cleaning and house-keeping purposes in the four test-checked colleges of Bettiah and Patna from October 2012 to March 2017.