MoS Health inaugurates PET CT scanner, 10 modular operation theatre at AIIMS Raipur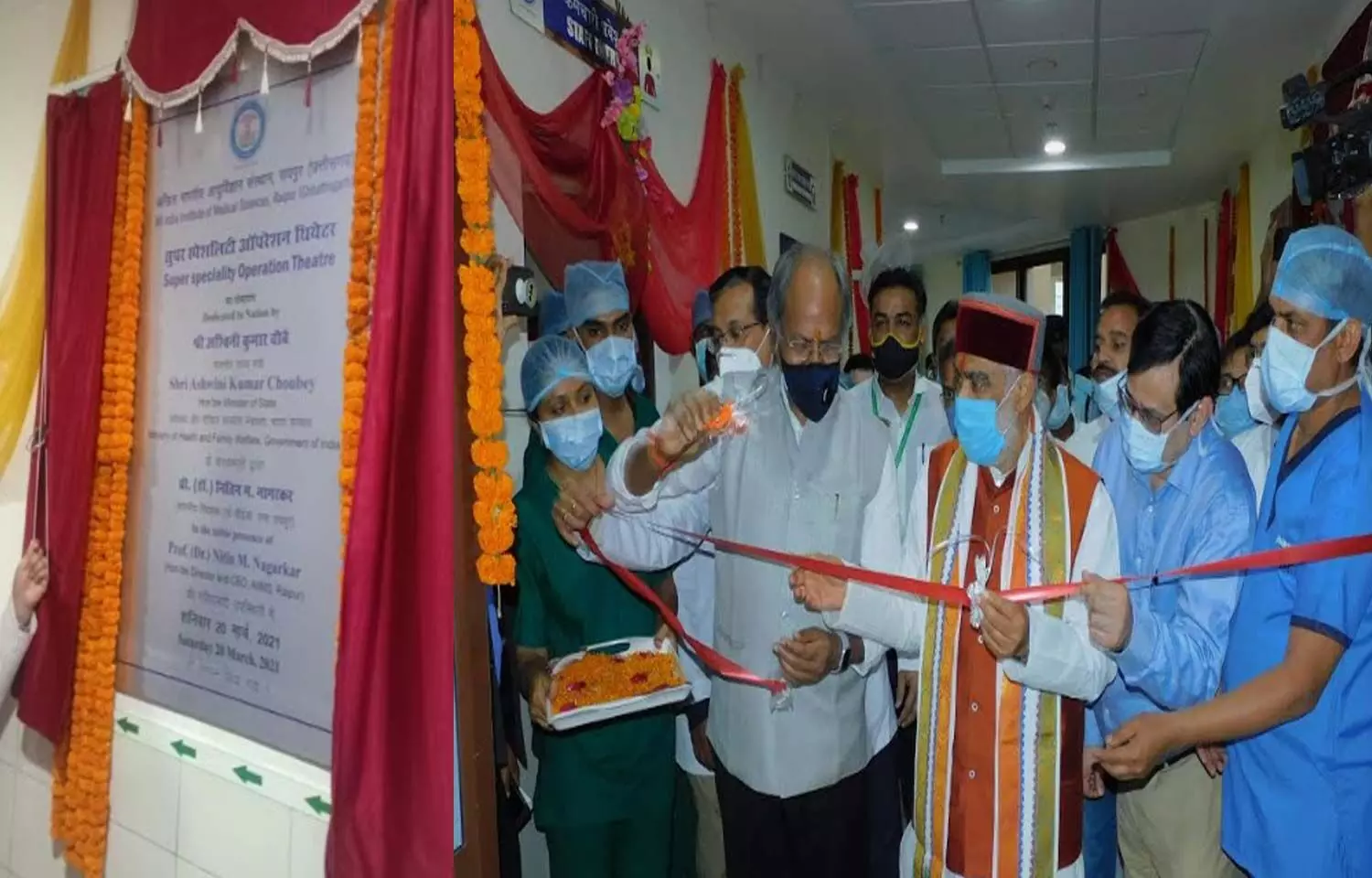 Raipur: Union State Health and Family Welfare Minister, Ashwini Kumar Choubey recently inaugurated the PET (Positron Emission Tomography) CT scanners and the newly introduced 10 modular operation theatres at the AIl Indian Institute of Medical Sciences (AIIMS) Raipur.

Positron Emission Tomography is a functional imaging technique that uses radioactive substances known as radiotracers to visualize and measure changes in metabolic processes, and in other physiological activities. These tracers are either swallowed, inhaled, or injected into a vein depending on the part of the body that is to be examined. Certain organs and tissues then absorb the tracer. When detected by a PET scanner, the tracers help doctors to see how well organs and tissues are working.
The minister also reviewed the progress of COVID-19 screening, treatment facilities, and vaccination to ensure the vaccination process is at par with the recent increase of COVID cases in the state.

The minister greatly appreciated the effort of AIIMS to introduce the new technology (PET CT scanning) which will allow them to save many lives.
" This is extremely fortunate as patients from Bihar, Odissa, Bengal and many other places seek treatment in AIIMS Raipur. I had conversations with a lot of patients and I am sure that the newly introduced technology will be proved helpful in fulfilling their healthcare needs," stated the minister.
Choubey also interacted with patients and their relatives and took feedback on the services.
The minister further added, " We have 28 Modular OTs. 18 were previously introduced and now 10 more have been introduced. We have also taken initiative to introduce Kidney Transplant within a few months. I had words with AIIMS' Chief and as soon as the technical work gets done, Kidney transplantation will be possible in AIIMS also".
Confirming the new progress, AIIMS Raipur has posted on their social media stating, "Union State Health and Family Welfare Minister Ashwini Kumar Chaubey dedicated10 modular operation theatres and PET-CT machine. Shri Chaubey reviewed the progress of COVID-19 screening, treatment facilities, and vaccination. Shri Chaubey appreciated the efforts of Director Prof. (Dr.) Nitin M. Nagarkar and his team for remarkable progress in such a short span, especially during COVID-19."
The Minister himself has also posted snippets of the occasion and stated, "The goal of the Central Government is to provide better, modern and affordable health facilities to the countrymen under the guidance and leadership of the respected Prime Minister Shri Narendra Modi. Advancing towards this aim, today Positron Emission Tomography, a Computerized Tomography and state-of-the-art machine has been inaugurated in the Department of Nuclear Medicine, AIIMS, Chhattisgarh. Members of the AIIMS family were present in the program including MLA and former minister of Raipur South Assembly, Mr. Brijmohan Agrawal, and AIIMS Director Dr. Nitin Nagerkar. I hope that the technology will be used to provide help to the patients at the earliest."