Delhi: 42-year-old contractual doctor, on duty since March succumbs to COVID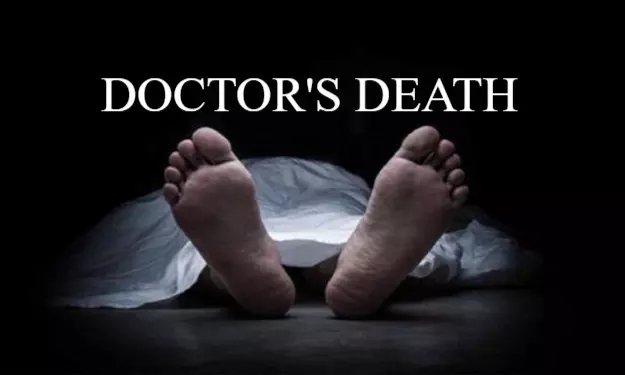 Delhi: In an unfortunate incident, a 42-year-old COVID warrior working in Delhi succumbed to the coronavirus disease recently. The deceased has been identified as Dr Javed Ali who contracted COVID in June while performing his duties in a coronavirus facility. He was fighting it for the last month until he breathed his last at 8:40 a.m. on Monday at AIIMS trauma centre.
With this, the contractual doctors are now questioning the government about the responsibility for the death of COVID warriors who are serving government facilities on contract basis and are having no commitment from the government on financial assistance to their families.
ALSO READ: Unfortunate: WB Medical College ophthalmology associate professor found dead

One of his colleagues, Dr Dhiraj Nath told a leading daily that he was tested COVID positive on June 24th, and soon after he was facing respiratory troubles. He was rushed to a private hospital where he was given Ramdesiver and afterwards he was shifted to Lok Nayak hospital. When his situation declined and Oxygen level dropped, he was referred to AIIMS trauma centre.
Dr Javed had served at three quarantine centres of South Delhi Chattarpur, the Radha Somani COVID care centre, and zero surveillance centre in Pushp Vihar before getting infected himself.
He was a contractual doctor with the Delhi government National Health Mission (NHM) and he started working for NHM as an employee in 2011. He was still extending his services at a Delhi government dispensary in South Delhi Sangam Vihar before he got infected with COVID-19.
Another fall of COVID frontline worker had brought despair into the medical community.
He was survived by his wife and two children. Confirming that the doctor did not take a single day off from March, his wife told
the Indian Express
that for the last 10 days, Dr. Ali was on ventilator support. "My children and I didn't even get to see him one last time. There is no provision for the families to say goodbye. My six-year-old son doesn't understand death". She also said that the deceased had no comorbidities.
She further stated that they have not received any financial help from the government as contractual doctors are not liable to get any health benefits. She asked the government that while they keep doing their duties, who will be responsible for the lives of these contractual health workers. She questioned the authorities, "It's our job to treat people, but what about our safety, our treatment? Who will fill the void? Who will help educate his children? The government must ensure the safety of families of healthcare workers, even if they are contractual healthcare workers".
According to
TOI
, in this scenario, the association of contractual doctors is now discussing whether they should go on a strike or give resignations considering that the government is not taking responsibility for their health when they are equally put under threat while extending the services for the COVID facilities.
A doctor working on contract said, "We have been demanding health benefits for around a decade now. The government should give it to all employees who contact the virus. We have also been fighting the battle of deduction of leaves during our quarantine period."
Many of the doctors are taking the help of social media platforms to express the grievances of contractual workers while expressing condolences for the deceased.

Mr @ArvindKejriwal a corona warrior Dr Javed Ali died of Corona yesterday? Did U announce any financial assistance to his helpless family? Did U meet his widow? Even U didn't support him when he was on ventilator for 10 days. I know why. @LtGovDelhi @PMOIndia @SatyendarJain

— Wadood Sajid (@Wadoodsajid) July 21, 2020
On Monday, Dr. Alka Choudhary, Delhi president of NHM Doctors' Welfare Association, said she has written to Delhi Health Minister Satyendar Jain urging him to ensure medical benefits to NHM members, including doctors, paramedics, data entry officers, among others. "In March, we had approached the health minister with the same demand. If we fall sick while treating Covid-19 patients, we have to foot our own bills. No one cares about us. If we test positive and are at home, our leaves and salary are cut too. Dr. Ali's wife spent their money on his treatment. Why call us warriors? Why talk about our future? Make sure we and our families are safe in the present", reports a daily.

A health department official while confirming that action will be taken told a media person that "The death of a doctor who was a corona warrior is very unfortunate. Help will be extended to the family. If a representation has been sent to the government, we will try to help in the best way that we can."

Source : with inputs