Doctor Shortage: Failing to hire MBBS physicians, Goa Govt turns to Ayush practitioners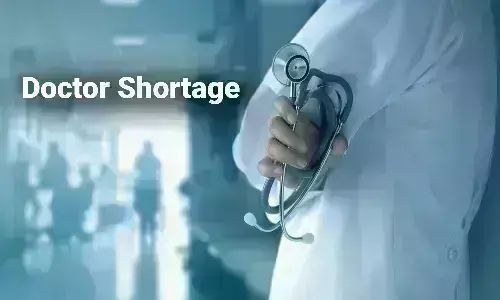 Goa: Failing to hire MBBS doctors despite conducting walk-in-interviews for 50 posts, Goa Government has now decided to appoint Ayush doctors to fill the glaring shortfall felt in hospitals as the surging number of Covid-19 cases.

Confirmation to this effect has been given by Jose D'Sa, Director Health Services (DHS).
This came after the state authorities were disappointed as only four candidates showed up to appear for the interview for almost 50 posts. Last month, the authorities also invited applications for posts of MBBS doctors; however, they received no response. This time they dropped the eligibility criteria of possessing a residence so that at least some of the candidates from the neighbouring state should also get the opportunity to apply.
Considering that there has been a significant surge in the number of covid cases due to the second wave, the government has been making efforts to hire doctors and nurses to give necessary support to the existing workforce, and now the authorities have decided to rely on Ayush doctors. "We will now appoint Ayush doctors," Director Health Services Jose D'Sa told Times of India.
With most of the fresh graduates serving their bond duty period and while others preparing for National Eligibility-Cum-Entrance Test (NEET), it has become difficult to hire ground-level medical practitioners at the moment.
Panaji-based Dr Govind Kamat stated that Goa most probably produces 150 doctors per year even after failures and dropouts, as Goa Medical College has 180 seats. However, the majority of them are interested in pursuing higher studies. There are currently no sufficient doctors available to get hired.
"They aren't interested in joining at the entry-level. Of these, 15% will be from other states. Once they get their degree from Goa University, they will either go back to their home state or take admission for post-graduation," Kamat told the daily.
Meanwhile, Manipal Hospitals' Dr Shekhar Salkar said that in order to confirm their bright future, most of the doctors remain determined to pursue higher education while many of them leave the state to pave the way for better career prospects, reports the daily.
One of the senior officials also pointed out that even though some doctors show interest in joining, they become discouraged as they realize that they will be deployed in COVID duties as soon as they join.
"We happily joined government service for two decades at whatever salary was offered to us then, but I don't think the salary of Rs 65,000 is attractive to the present generation of doctors who are ambitious," he said.
As per the daily for the last few decades, it has been a great challenge for private hospitals to hire MBBS doctors as residents unless they come up with an attractive offer. Finding no other viable option, most of the private hospital start appointing Ayurveda and homoeopathy doctors as residents because they have to be paid Rs 40000 but as far as an MBBS degree holder is concerned, he or she will not join for the salary of less than Rs 60,000 to Rs 65,000.
Goa Resident Doctors Association (GARD) president Dr Pratik Sawant pointed out that even if the fresh graduates want to join, they will be unable to opt for the position as most of them have to serve their bond services.
Along with doctors getting nurses to appoint as a staff is also becoming difficult. "Few of our nurses quit to join contract jobs in the government service, recently," Salkar told
TOI
.
A fresh graduate nurse gets Rs 15000 to Rs 20000 in the private sector and in government, he or she draws about Rs 30,000 even if he or she is a contractual employee. Another doctor attached to a private hospital said, "Whenever a government hires nurses and even if appointments are contractual in nature, nurses serving in private hospitals choose the former not because of pay disparity but hoping that one day their service will be regularised. Many private hospitals have nursing staff from bordering districts of neighbouring states."
Source : with inputs