Gujarat MBBS interns on strike after no COVID allowance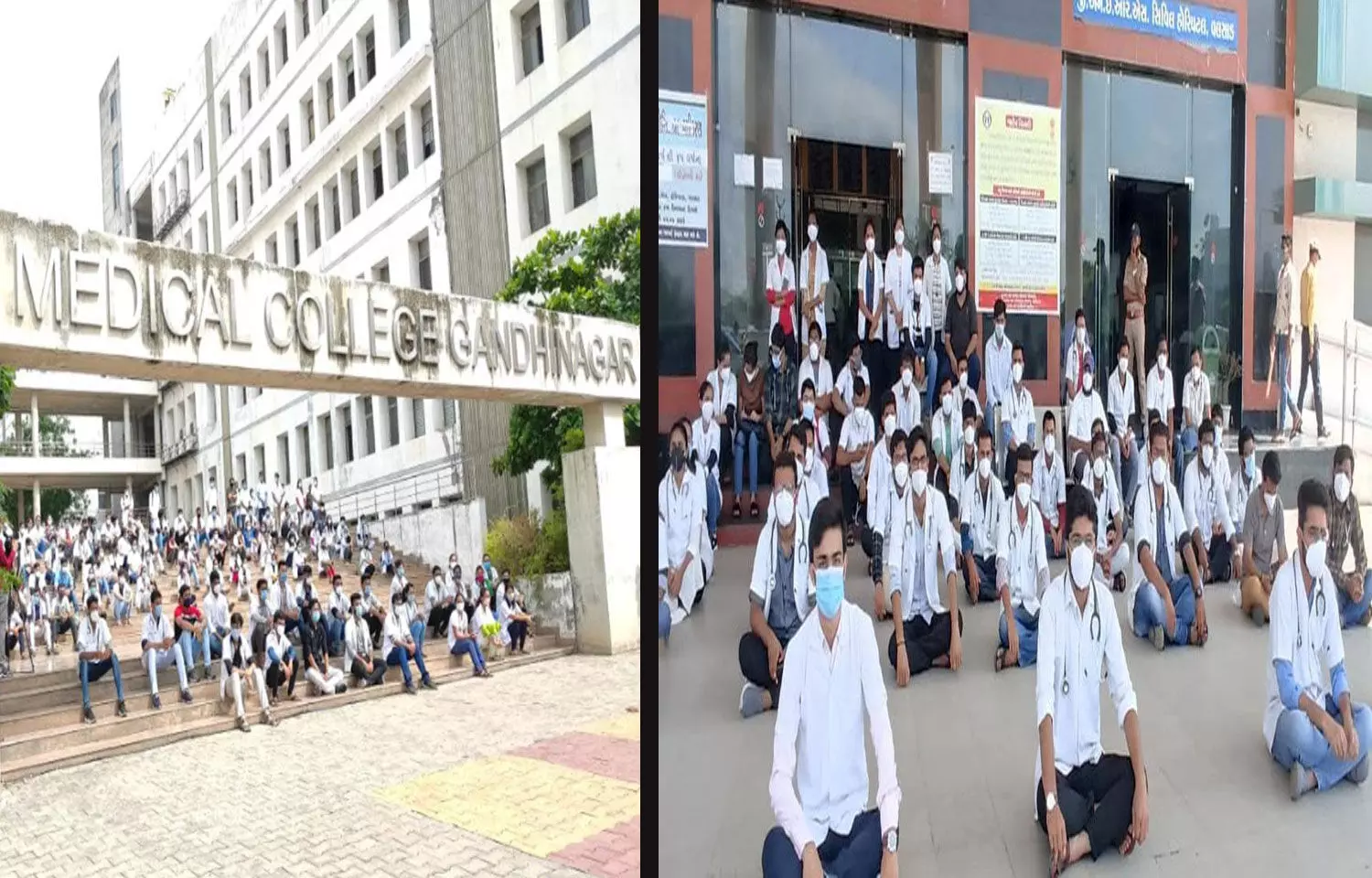 Gandhinagar: MBBS interns of Gujarat Medical Education and Research Society (GMERS) and civil hospital of Gandhinagar, Ahmedabad, and Sola have gone on a strike for an infinite time demanding COVID allowance of Rs 5000 as promised by the state government.
Currently, the resident doctors are managing the hospitals as the medicos are sitting outside the campus of their colleges to protest for their demand.
The Health and Family Welfare Department of Gujarat on April 12 had announced that medical interns of all government and GMERS medical colleges will receive a COVID allowance of Rs 5,000 per month from March to June for serving COVID duties.

However, the said COVID allowance as promised to the medical interns of GMERS
is still pending for a period of over four months now.
Coming under the banner of the Gujarat Intern Doctors' Association (GIDA), all the 150 MBBS interns of GMERS Gandhinagar first staged the protest from 9 am onwards on 14th July.
Standing in solidarity with Gandhinagar interns, 350 interns doctors of Civil Hospital Ahmedabad and Sola have also gone on an infinite strike from today 8 am onwards.
As per a recent press release by GMERS Gandhinagar interns, "An intern doctor on duty in a medical college who work in COVID wards was sanctioned an incentive allowance of Rs 5000
by the government
. We are asking the authorities for the amount since the last month but we have not received any response yet."
Intern doctors of GMERS Colleges had earlier given representation to CEO of GMERS and deans of their respective colleges and the final ultimatum ended yesterday after which they boycotted work.
Speaking on the issue, Dr Meet Ghonia, a member of GIDA told Medical Dialogues, " The intern doctors sat on dharna outside the college premises o GMERS Gadhiagar first. Appreciating the constant hard work and dedication of intern doctors amidst the second wave of COVID, the government decided to give them Rs 5000 as COVID allowance for four months. The interns were supposed to receive the amount from March-April but even after months, they have not received COVID allowance for any month. When all the interns of government medical colleges are getting COVID allowance why should only GMERS interns e discriminated against?"

"The interns approached authorities with their demand but the Dean informed them that he is incapable of granting allowance unless the higher authorities issues directions. The medicos requested authorities to take action by 13th July after which they decided to boycott work from 14th July. They are not asking for something extra, only what the government has promised them", the doctor further added.
Associations like FORDA and FAIMA have also extended their support to the protest. Many have posted on social media supporting the interns also.