Resident doctors strike illegal: Gujarat Govt threatens to invoke Epidemic Diseases Act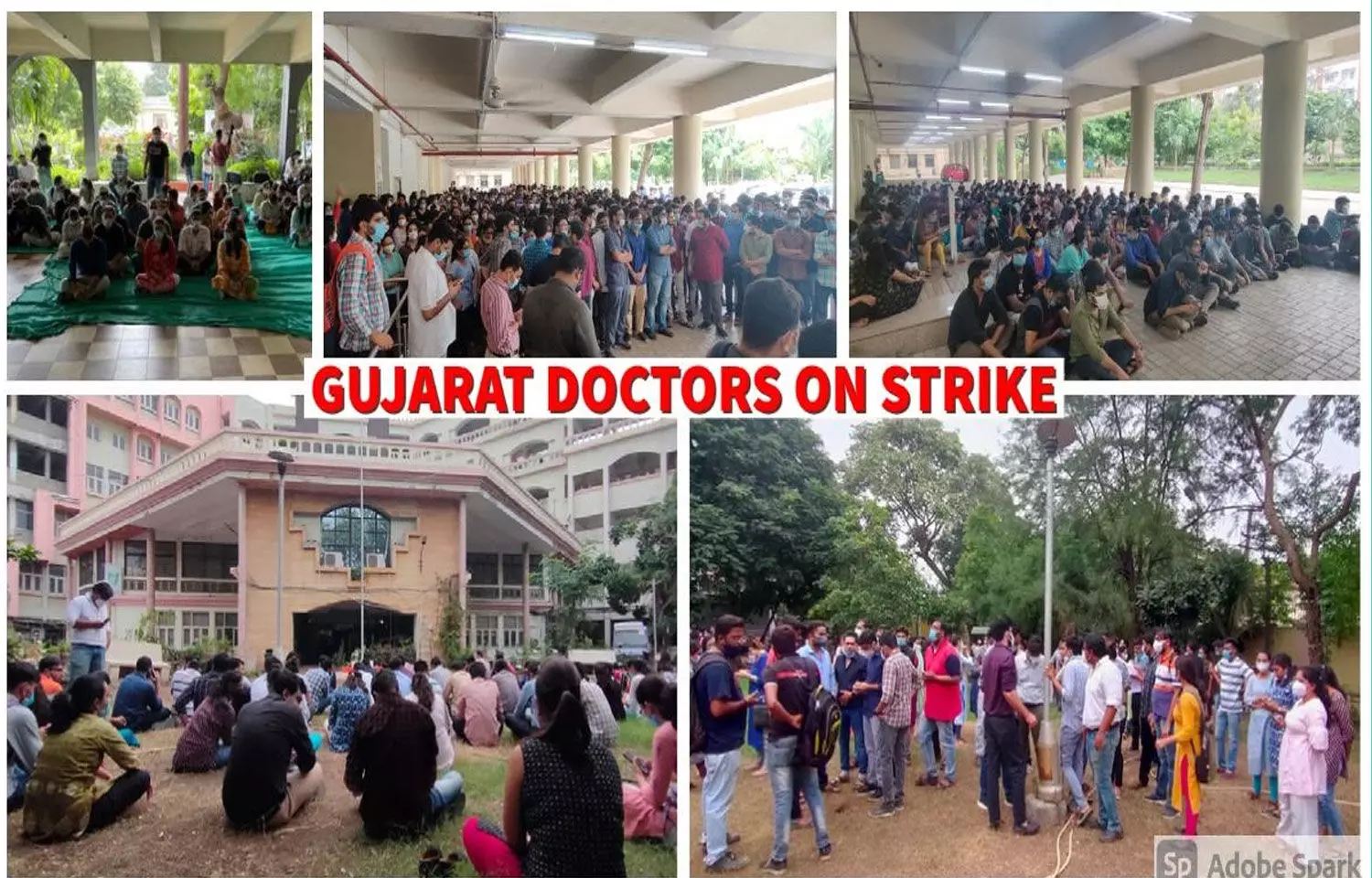 Ahmedabad: Over 2,000 resident doctors in Gujarat, who went on strike on Wednesday demanding that their mandatory medical bond service be considered in the ratio of 1:2, that is one day of service be counted equivalent to service of two days, have been warned of "strict proceedings" under the Epidemic Diseases Act if they do not join back for duty.

The Gujarat government on Friday termed the ongoing strike as "illegal", and threatened to invoke the Epidemic Diseases Act if they did not return to duty.
On August 4 afternoon, the agitating resident doctors, mostly those who have recently finished their post-graduate course, belong to government-run medical colleges of Ahmedabad, Vadodara, Surat, Rajkot, Bhavnagar and Jamnagar went on a strike.
Members of certain prominent associations of PG medical students including the Junior Doctors Association in Ahmedabad and Surat also boycotted work over pending demands. Further, doctors at BJ Medical College and Civil Hospital in Ahmedabad announced a strike from 5 pm on Tuesday resulting in paralyzing services.
The doctors created the stir mainly over the issue of bond service period and the 7th Pay Commission. Besides, they also sought status of Senior Resident on bond including pay scale for the outgoing batch, 1:2 attendance count as promised by government earlier as COVID pandemic is still ongoing, bond to be posted in parent institute in view to compensate for academic loss during their third year due to COVID and Senior Residency to be considered as bond at par with other states.
In Gujarat, medical students of government colleges are required to sign a bond, which mandates that they serve for a year in rural areas after completing their studies. Doctors can break the bond by paying Rs 40 lakh.
In April this year, when COVID-19 cases were on the rise, the state government had announced that one day of COVID-19 duty will be considered equivalent to two days of bond duty. Thus, six months in COVID-19 wards will be considered as one year of bond period.
However, in July, when COVID-19 cases dropped significantly, a new notification was issued stating that the ratio has been restored to 1:1 instead of the previous 1:2, the Junior Doctors' Association statement as quoted by PTI.
Now, the resident doctors have demanded that the old 1:2 days formula be restored, and sought salaries as per the 7th Pay Commission. Instead of remote rural areas, the agitating doctors also want the government to deploy them in their "mother institutes" during the bond period.
A delegation of resident doctors had earlier met senior health department officials, however, they got no clear answers or assurances from them, the impasse continued till Tuesday night before they continued the strike on Wednesday, reports Times of India.

Some of the doctors also claimed that when they approached Health Commissioner to air their grievances, authorities allegedly misbehaved with them and did not pay any heed to their submissions.
Standing in solidarity with the protesting medicos, the Federation of All India Medical Association (FAIMA) has submitted a letter to the Gujarat government pointing out that previously the commissioner of the state had extended the Post Graduation period of the current passing out batch of July 2021 MD/MS/Diploma doctors for a period of 3 months, so that there would not be a shortage of doctors during the 2nd COVID wave. This order was released on 12/04/2021.

In that same order, terms and stipulations of the compulsory bond service were enumerated, which stated that the bond period can be completed in a 1:2 manner, wherein 1 month of duty would be considered as 2 months of bonded service. However, even with the completion of 3 month extension period, the previous order has been blatantly disregarded and new orders have been suddenly enforced on the doctors who were expecting and preparing themselves to complete their bonded duties in the aforementioned 1:2 manner, it added.
In the letter, the association further stated, " On 03/08/2021, student representatives from Government Medical Colleges of Gujarat went to meet the Honourable Health Commissioner to discuss this sudden disparage. However, we are absolutely shocked to learn that these doctors were treated with dissent and met by a strong team of police force with pistols and batons in hand. Has it come to this that our COVID warriors need to be treated this kind of gross disrespect?"
"We must remind you that we these young doctors have been at the frontline of our nation's COVID response for the last 1.5 years, and have been working hard and often under immense stress despite suffering immense academic loss. We have also been informed that while after a lot of requests, the Health Commissioner was met, the Health Commissioner, Jayaprakash Shivhare, spoke to the doctors very rudely, insulted the contingent and demanded proof of the work done in 3 years of residency, implying that we, doctors are asking for our basic rights without doing any work in the hospital", added the doctors' body.
The letter signed by FAIMA President Dr. Rakesh Bagdi further added, " Our General Secretary, Dr. Suvrankar Datta, shall be visiting Gujarat today to take note of the situation and we urge you to look into the matter on a priority basis to prevent the paralysis of the state's Healthcare system, as we have been informed that doctors may have to resort to complete strike if the matters are not sorted at the earliest."
However, Gujarat Deputy Chief Minister Nitin Patel, who handles the Health portfolio, rejected their demands and asked the resident doctors to return to their duties. He stated that to deal with the workload during the Covid pandemic, a government resolution was passed to encourage MBBS and post-graduate medical bonded doctors to join for Covid-19 duty by stipulating that one day of Covid-19 work shall be counted as two days' work or double of the time served under rural tenure.
Post-graduate doctors of government medical colleges are subject to a bond owing to which they are required to serve one year in rural service.
"Covid-19 work is different from usual (medical) work, due to which the state government decided that bonded doctors who serve in Covid wards will be eligible for 1:2 benefit… From August 1, those who have passed PG exam and studying in government medical colleges will have to serve one year bonded duty, as has been ordered by the (health) commissioner," Patel was quoted as saying by The Indian Express, while terming the resident doctors' strike as "illegal" and their demands "totally unreasonable".
Source : with agency inputs