Jharkhand Health Sector review flags critical gaps: 85 percent specialist doctor posts lying vacant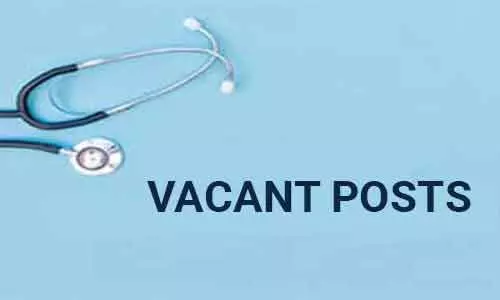 Ranchi: A recent health review conducted as a part of departmental exercise flagged critical gaps in healthcare access and delivery mechanism amid the Covid-19 pandemic in Jharkhand. It was found that almost 85 per cent of seats for specialist doctors are lying vacant and only six doctors per lakh population is available.

This came after a health review survey by the State Health Authorities following the orders of Chief Minister Hemant Soren.
As per a recent media report in The Indian Express, the doctor-patient ratio skewed as only 6 doctors are available for per lakh population. Almost 85% of seats for specialist doctors are lying vacant.
At a time like this when COVID has already claimed nearly a thousand lives in the state and there are nearly 2,000 active cases of COVID, this kind of scarcity in the workforce can lead to serious consequences. More than 1 lakh people have been reported as COVID positive in the state so far. As per the daily, the worst figures are marked in the case of specialists.
The review report suggested, "There are only five anaesthetists out of 89, 21 out of 271 paediatricians and eight out of 246 physicians as required in the state. Out of 994 positions, 860 remain vacant."
During the review meeting, it was also found that there was a scarcity of 5,258 doctors in the state according to the Indian Public Health Standards. Considering the projected 2019 population of 3.78 crores in Jharkhand, there are 2,306 doctors in government institutions. It was informed further during the meeting that, "There are 27 beds, six doctors, 1 lab technician, and around three nurses per lakh of population in Jharkhand."
Apart from the scarcity of health workers, several gaps were also marked in healthcare facilities and health infrastructure. As per a media report by
The Indian Express,
the review suggested that a total of 8,462 health sub-centres, primary health centres and community health centres are required in the state. However, only half of the required amount is accessible as only 4,476 of these are functional.
"There is a gap of 3,130 health sub-centres; 769 primary health centres; 87 community health centres in the state as per Indian Public Health Standards taking into account the last census," state the documents.
As per the review, the places with the lowest percentage of institutional deliveries are Hazaribagh, Simdega, East Singhbhum, and Ramgarh.
"During the field surveys people said that they relied on government hospitals more, but there were many deliveries conducted in private nursing homes where we have not been able to get the data," stated a government official who was part of the review process.

Commenting on the same, CM Hemant Soren stated during the review: "We need to give 24 hours round the clock service in all hospitals. Please send in proposals for required human resources in all such units to fill the gaps... There is no need to construct new health units as there are many which are lying unutilized."
Source : with inputs