Karnataka resident doctors hold protest, demand fee reduction, COVID risk allowance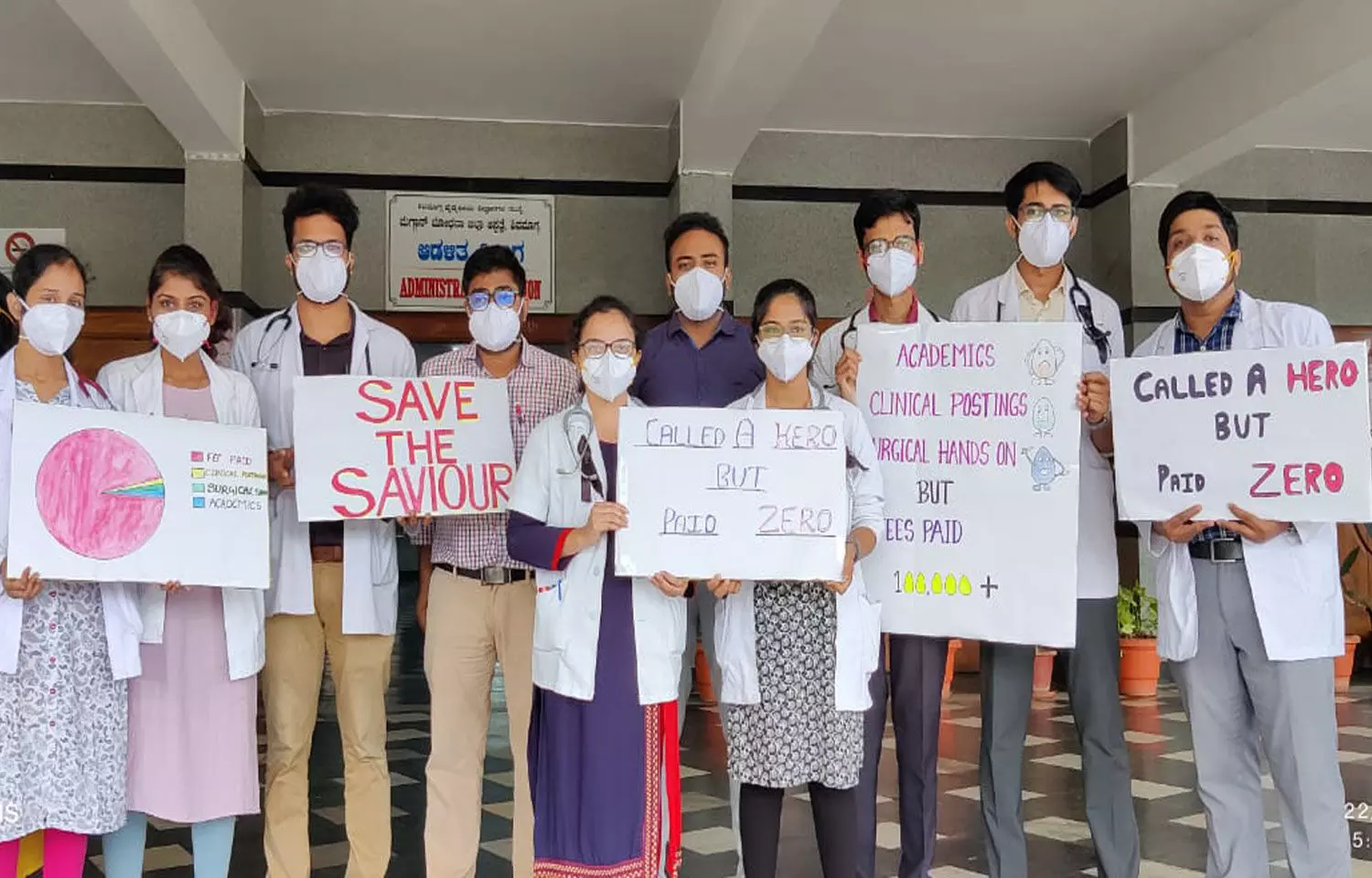 Bengaluru: The resident doctors of Karnataka staged a week-long protest putting forward their string of demands including reduction in tuition fees, formation of a legal cell to look into violence against medical professionals, and a Covid-19 risk allowance.

The doctors wore black badges at work, held placards, and even took twitter to storm with #ReduceAcademicFees and #LegalCell to air their grievances.
Coming under the banner of the Karnataka Association of Resident Doctors (KARD), the resident doctors performed their duties wearing black badges across different medical colleges on Monday, while on Tuesday, they initiated a social media campaign where the doctors recorded videos of themselves, and expressed their difficulties, highlighted their demands and shared it on social media.
On Wednesday, the resident doctors took to Twitter to air their grievances, while on Thursday, they held up placards with their demands and posted the pictures on social media. The resident doctors have also planned to highlight their concerns by unitedly upholding their demands via Twitter on Saturday.
The doctors have demanded a reduction in their fees, arguing that Karnataka has a higher fee in government colleges compared to other states. Dr Namratha who is a post-graduation resident doctor and the president of KARD told Medical Dialogues, " We have served during the pandemic without caring about our health and also worked overtime. The fee for PG courses was just Rs 28,000 to Rs 29,000 but in 2018 there was a drastic hike and it was increased around Rs 1.29 lakh. We are asking the government to reduce our fees to what it was for our seniors, considering that we have worked this hard during the pandemic."
The association has also submitted a letter to the CM seeking the creation of a legal cell, consisting of legal experts and doctors, which would investigate the cases of violence and attacks against medical professionals by family members of patients and thus would ensure that necessary action is taken against them.
In the letter the association mentioned, "The contribution of the resident doctors in this pandemic is enormous by keeping our lives, family, career and also our learning at risk. The doctors across Karnataka are putting their best to bring out best health care facility possible. However, it is sad to note that there is more than 12 case registered incidents of assault on healthcare workers in the past 8 to 10 months while the unnoticed, unregistered assaults and also incidents of verbal abuse threats and hampering the duties to be discharged by the duty doctors can amount to hundreds."
The association further added that fighting these cases at the individual level is the greatest pain a doctor can go through. Pointing out that the doctors are working for the people and for the government, the association stated tat it is also duly the responsibility of the government to ensure such incidents don't happen and make sure culprits are legally punished.
"Vicious cycle of these incidents followed by symbolic protest followed by FIR registration followed by bail or acquaintance and our failure to fight legal cases is going on since many decades. So the formation of "STATE LEVEL LEGAL CELL" is a onetime solution for the longstanding problem of assault on healthcare", stated the letter.
Dr Namratha also highlighted the issue and stated, " A few days ago a horrible incident of violence occurred in Raichur also where the doctors were assaulted by kin of patient; However, the accused have not been arrested yet and the matter is ignored. The formation of state-level legal cell and its components at the district level is the need of the hour. The increasing number of assault cases on doctors would be a serious threat to our basic fundamental right "right to safety". We are also urging the government of Karnataka to take all necessary measures to put a halt to such untoward incidents by forming state level legal cell."
The third demand raised by the resident doctors included payment of COVID-19 risk allowance. Dr Namratha mentioned, " We have been demanding COVID allowance since last year. The order of COVID-19 risk allowance was announced in April and three months have passed but still, not a single rupee has reached our hands. We have worked as frontlines during COVID and neglecting our well-being is highly unacceptable. We have approached the authorities also but all have gone to deaf ears. We hope this time the government will take note of our perils."