RIMS medicos protest against alleged assault on on-duty intern doctors by deceased patient's kin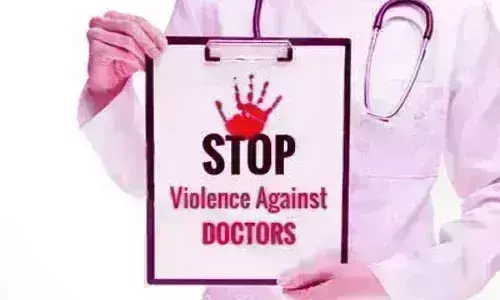 Raichur: Condemning the attack on two on-duty intern doctors by the relatives of a deceased patient, the medicos of Raichur Institute of Medical Sciences (RIMS) protested in front of the college recently.
The protesting medicos have demanded immediate arrest of the culprits.

As per a recent media report, this came after the family of a deceased patient became violent as the patient passed away in the facility. The patient has been identified as a 50-year-old who was suffering from stomach pain for 3 days and was ultimately admitted to the orthopaedic ward of the institute. After the initial check-up, he was transferred to the surgery ward.
However, his health condition kept on deteriorating while he was undergoing treatment. Despite the best attempts of the doctor, the patient passed away on Friday night. The intern doctors on duty tried to revive the patient but in vain.
As soon as the news of the death broke in front of the patient's family, they resorted to violence and allegedly assaulted the intern doctors who were on duty. The relatives alleged that the doctors were not careful enough and were negligent causing the death of the patient.
One of the junior doctors informed
Deccan Herald
that the angry mob attacked them and kicked one of his colleagues who was on night duty at that time. The doctor received severe back and stomach injuries while one of the doctors succeeded to escape the assault. Soon the police were informed and a case was lodged at the Market Yard police station at the evening against the accused.
A police officer attached to Market Yard Police Station further informed that the daughter of the deceased patient alleged that despite the decline in her father's health condition, the doctors did not attend to him until it was too late.
"We will come to know whether the deceased's relatives assaulted the duty doctors or not after examining the CCTV footage of the hospital. After a compromise between the doctor fraternity and the relatives of the patients in the presence of the deputy superintendent of police, the body was taken for last rites," he explained.
RIMS Director Basavaraj Peerapur informed the daily that a brawl broke out between the interning doctors and the relatives of the deceased patient. "We have lodged a complaint at the police station in this connection. Security will be beefed up at the RIMS to avoid such incidents in the future," he told.
Source : with inputs