Doctor Shortage: Maharashtra summons private doctors to report for compulsory COVID-19 duty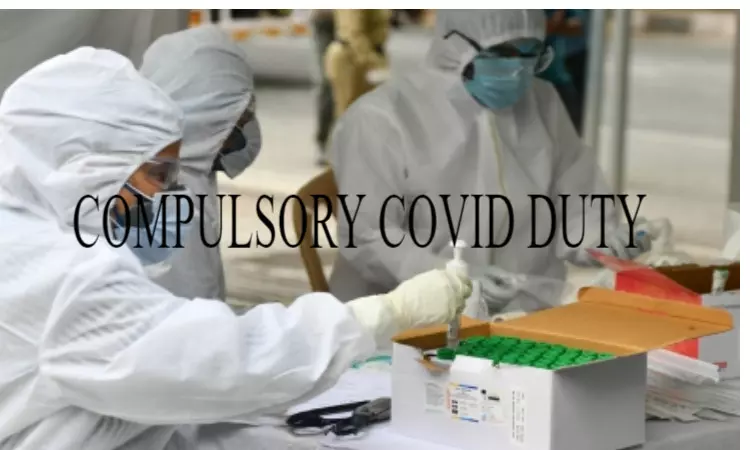 Mumbai: Facing an acute shortage of medical practitioners in the rising COVID-19 battle in the state, and especially in the city of Mumbai, the government is now issuing letters to doctors working/situated in the nearby areas to report for COVID-19 duty of 15 days.
Non-attendance of duty would be considered a breach of the Medical Council of India Code of Ethics and would bring an action under various acts
The confirmation to this effect was made by a notification issued by the Directorate of Medical Education and Research Maharashtra (DMER) to all the registered medical practitioners working in the state, pointing out to the sub-utilisation of expertise and experience of registered medical practitioners for COVID-19 patients in Mumbai and suburban district.
Noting that in the light of the coronavirus pandemic, the DMER has been declared as " Empowered officer" and is empowered to take such measures as are necessary to prevent the outbreak of COVID-19, or spread thereof, Dr TP Lahane the director, DMER in larger public interest and exercise of the powers conferred requested the following of all the RMPs
" That your expert services are required for the prevention and treatment fo COVID-19 patient at least for 15 days. You shall, therefore, convey your willingness, and place of choice to Dr Milin Kamble, at following address, under intimation to this Directorate."
The notice further warned of penal action on non-attendance.
"Non Attendance of the duty will be considered as breach of MCI Code of Editcs that we administered at the time of obtaining degree and action will be initiated according to the provisions of the Epidemic Diseases Act, 1897, and other acts referred."
The notification refers to five acts namely the Epidemics Diseases Act, 1897, the Disaster Management Act, 2005; the Maharashtra Essential Service Maintenance ( Amendment) Act, 2006; the Bombay Public Trusts Act, 1950.
The notification further noted that those who have completed 55 years of age and are suffering from co-morbidity are exempted from this duty.
"We have summoned doctors working in Mumbai and suburbs have been called. They are sitting at home, not even opening their private clinics. Given the increase in the number of cases we had to issue the notification," Dr T.P. Lahane, director, Medical Education and Research confirmed to Livemint.
The move comes as the state government is facing an acute shortage of manpower amidst the rising coronavirus cases. The state currently accounts for the maximum number of coronavirus cases in the country with current numbers at 16758 total cases out of which 3094 have recovered while 651 have succumbed to the disease.
Medical Dialogues had earlier reported that the Maharashtra Medical Council had also announced extra credit points for all those medical practitioners who report for COVID-19 duty
Read Also: Doctors serving COVID-19 patients to get up to 10 credit points in Maharashtra: Medical Council
The notification issued by the DMER and the consent form for utilization of services are attached below