IGGMCH Residents demand recruitment of staff, specialists for running Covid-19 wards, ICUs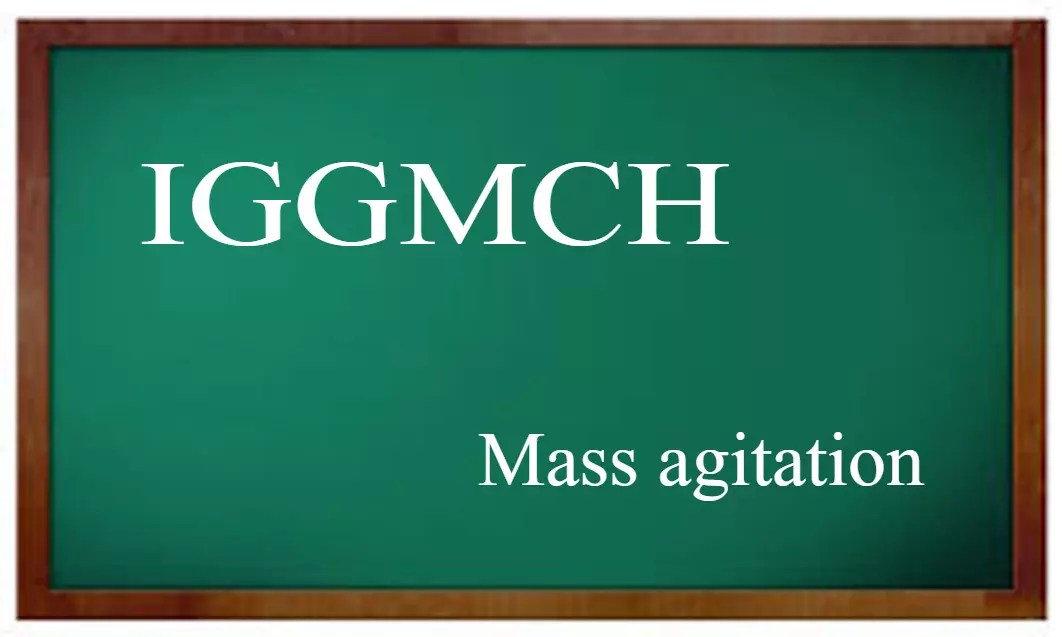 Nagpur: Standing in solidarity with the Maharashtra Association of Resident Doctors (MARD) and the resident doctors of Nair Medical College, the resident doctors of Indira Gandhi Government Medical College & Hospital (IGGMCH) Nagpur also planned a mass leave agitation demanding immediate recruitment of healthcare workers and decentralization of COVID patients along with several other demands.

However, the doctors put off their mass leave agitation for the time being after considering the patient's welfare and after getting the district collector's assurance over some of their demands.

Along with demanding recruitment of 100 HO/MO staff for running COVID wards and Specialists for running COVID ICUs, the residents demanded fee wavier for the academic year, exemption from PG thesis submission, and diverting the patients to civic-run isolation facilities if they do not require immediate tertiary care treatment.
On 7th April MARD members of IGGMCH Nagpur submitted a letter to the Dean of the institute giving an ultimatum to the administration of going on mass leave if their demands were not considered. However, the doctors withdrew their agitation after they had a conversation with the collector and they also considered the patient's welfare.
The association demanded the recruitment of 100 HO/MO staff for running COVID wards and Specialists for running COVID ICUs on an emergency basis. The association further demanded that decentralization of COVID positive patients to other hospitals run by Nagpur Municipal Corporation at the earliest other than stable patients shifted to CCC so that the Non-COVID patient care is not hampered.

Stating that the resident doctors are being used as a stopgap solution, the association asserted, " The resident doctors have been shouldering the burden of COVID doing every minute thing related to patient care. Work that should be done by doctors under the employ of the public health department, is being done by students. This is a tremendous waste of human resources."

In the letter to the dean, MARD mentioned, " We have an average of 2500 to 3000 outpatients per day. But the pity is, we don't have a functional MRI for the last 1 year. We were told that funds for MRI had already been sanctioned. We could not find any reason for further delay. We MARD need a tentative date on which we could get a functional MRI and it should on paper." Stating that the academics of the resident doctors were near to zero in the last 1 year, MARD demanded fees waive off/ or a reduction in the academic fees.

The association also questioned why there is gross indifference between the salary of resident doctors and HO/MO working in the same COVID wards. " Despite GMC being one of the biggest hospitals in Central India, we have only 18 bedded wards reserved for COVID positive Healthcare workers. There is no preparedness if cases in healthcare workers increase in near future. Our residents and Healthcare workers are staying in their corresponding hostels and exposing others", added the association.

Commenting on the issue, GS of MARD, Nagpur, Dr Dharun Prasad told Medical Dialogues, " There are exams going on so we are not involving all the interns in COVID duties, NMC must ensure a sufficient workforce right now. They want to increase the COVID beds to 1000 but we don't have the manpower for that. We have put off the mass leave agitation for now considering the patient's welfare but if our demands are not given the importance we will start a protest." He further added, " Trainee specialist doctors are being forced to work in general practitioner roles which are detrimental to all parties involved; that is the trainee doctors, the patients, and the limited health care facilities that we have. It is a misuse of specialist students in basic patient care. This is going on since last March, we are not getting a chance of learning about our respective specialities. Once our residency is done and we keep on making mistakes what will be the consequences then?"
IGGMCH's MARD vice-president Dr Asif Patel told Medical Dialogues, " We have three major concerns- first, NMC must arrange sufficient workforce in the hospital, second, Non-COVID patients must not be deprived of treatment by making the facility a COVID exclusive and third, exemption from PG thesis submission as we did not get any chance to study any case other than COVID. We will ensure Covid patients are not affected but, at the same time, our demands must be fulfilled. We haven't got any academic exposure due to Covid load. We have only postponed our agitation and we will again continue our protest if our concerns are not given importance."
The doctor informed that a total of 50 community health officers and resident Ayurveda doctors have joined to provide additional help. "The collector assured us to provide additional medical officers from Ayurveda college last night. This is really encouraging that practitioners from Government Ayurveda College have been deployed for Covid duties. We are waiting for similar assurance from Nair Medical College as our counterparts are equally being distressed with the similar situation", added the doctor.
The doctor also informed that the doctors would hold a meeting with the central MARD where all the MARD representatives of all the government colleges will also meet and decide their further steps.