Angry mob brutally assaults young doctor with iron rods over COVID patient death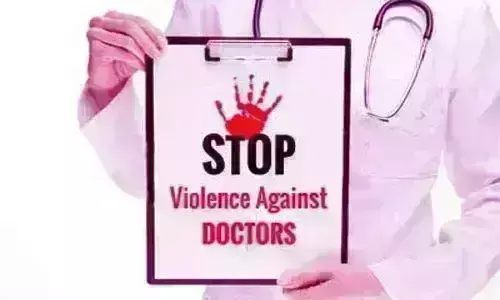 Pune: A young doctor attached to a private hospital in Pune was brutally assaulted with iron rods and showered with blows and punches by a group of 15 to 20 people after the death of a COVID patient in the facility.

Upset and angry over the death of a COVID victim, the kin of the patient resorted to violence and vandalized the hospital alleging that the patient passed away due to a delay in administering oxygen.
The 65-year-old patient was rushed to the Prime Hospital in Kondhwa after his oxygen saturation level started dropping and he subsequently passed away. Thereafter, a group of around 20 unidentified people allegedly attacked the doctor black and blue.
A complaint in this regard was lodged by the 25-year-old doctor, a visiting medical practitioner.
The patient was suspected to be a COVID victim though the information was not confirmed and he reached the hospital in a cardiac ambulance. Describing the incident, an official from Kondhwa police station stated, " At around 12.30 am, the doctor visited the hospital. At that time, an ambulance carrying a patient reached the hospital. The complainant checked the patient, but as he could not locate the vein of the patient, he informed a senior doctor."
On being checked, the patient was found dead.

According to
Hindustan Times
, when the kin of the patient was informed about the death of the patient, they started blaming the doctor for administering the oxygen late and resorted to violence.
Officer privy to the investigation, police inspector (crime) Shabbir Sayyed of the Kondhwa police station told PTI, " The patient was in a cardiac ambulance. The family members believed that the death happened due to a delay in providing oxygen, but the doctors said that the patient had passed away before he could be admitted."
The doctor in his complaint mentioned that an angry group of relatives of the patient allegedly ransacked the glass of the security cabin of the hospital and threw stones at the hospital door. They also showered blows and kicks on the doctor and assaulted him with iron rods which left the doctor with serious injuries. They also hit a hospital staffer.
After the assault, the doctor immediately informed the police and registered a case against the accused. After securing the information a team of Kondhwa police immediately rushed to the spot to start their investigation.
The Indian Express
reports that police have booked 15 to 20 people in this case under sections 324, 323, 504, 427, 143, 147, 149, 188, 269, 270 of the Indian Penal Code, sections of the Maharashtra Medicare Service Persons, and Medicare Service Institutions (Prevention of Violence and Damage of Property) Act, National Disaster Management Act, Epidemic Diseases Act.
Source : with agency inputs