Maha: COVID duty doctors attacked by villagers in Palghar, 2 held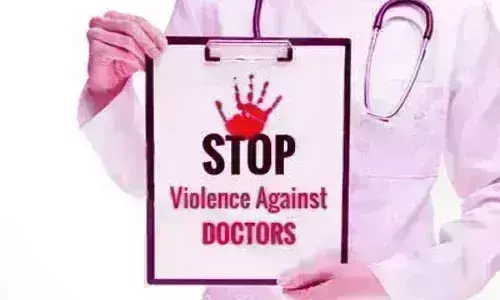 Thane: A team of doctors and healthcare workers, visiting the Palghar district to spread awareness about covid-19 and its vaccination were brutally assaulted and manhandled by the villagers.

Police have arrested two persons involved in the attack, while a manhunt has been launched to nab seven others.
As per the officials, the incident took place on Monday when a team of five personnel from Durvesh Primary Health Centre went to Ganje village in Manor for a Covid-19 awareness programme. The accused villagers stopped the team, including doctors, from entering the village and thrashed them up, the official stated, adding that the villagers also vandalized the team's jeep, reports PTI.
As per a recent media report in the
Times of India
, the team of healthcare workers was visiting the village to create awareness as well as to conduct Rapid Antigen Tests when they faced steep resistance from the villagers and almost 10 locals started manhandling and assaulting them.
Moreover, the villagers started blaming the health care workers for carrying Coronavirus with them. The team including a doctor and two female health care workers were assaulted and they sustained injuries during the scuffle.
The angry mob allegedly vandalised their vehicle as well and smashed the window panes. Police were soon informed and two of the culprits were arrested. Police are still trying to nab the rest of the accused.
An offense under section 353 (assault to deter a public servant from discharge of his duty) among other relevant provisions of the IPC, Disaster Management Act and Epidemic Act has been registered against the accused.
A similar incident took place on the very same day with another team of healthcare professionals who visited Balapur village in Vikramgad. They were also stopped midway by angry villagers and as soon as they stepped out of their car, the villages started attacking them with stones, adds the daily.
Source : with agency inputs