Maha: Doctor's flat gutted after fire breaks out in AC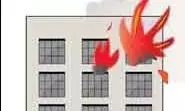 Kalyan: A doctor, located in the Kalyan area of Mumbai, had his flat gutted after a fire broke out in an air conditioner.

The incident took place on November 17 at the fourth-floor of the Casuarina building in Godrej Hill area in Kalyan (west) situated in Mumbai, the capital city of Maharashtra.
As per reports, none of his family members including his wife and two kids, who were present during the incident, were harmed. They managed to escape out of the flat before the fire spread.
According to a recent TOI report, the fire brigade officials informed that the flat is owned by Dr Rajesh Raju and that after the fire took place because of a burning air conditioner in the hall room, it went on to spread across the house due to which the entire house was engulfed in the fire.

Medical Dialogues team had earlier reported about another fire accident, wherein, a 35-year-old doctor was burnt to death after his car had allegedly caught fire and the doors got accidentally jammed on Sohna road near Bhondsi.
Source : with inputs