Maharashtra Doctor booked in rape case; absconding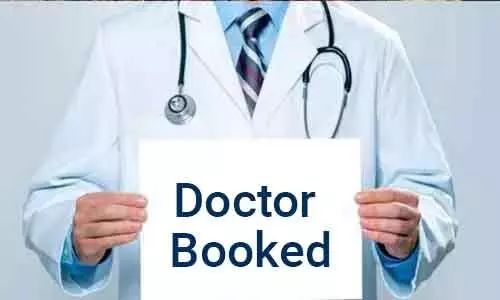 Kalyan: A city based doctor has been booked for allegedly raping a 23 year old woman under false pretext. According to the police, investigation has been launched into the case and efforts are on to nab the accused doctor who is currently absconding.

The recent media reports state that the alleged incident took place over a week ago on February 15th at Bhiwandi town in Maharashtra's Thane district. The doctor has been accused of taking the complainant woman to show a flat in Bhiwandi and allegedly raping her there.
Informing UNI about the same, Assistant Police Inspector Deepak Boi Bhiwandi taluka police station stated, ''The accused took the victim under the pretext of showing her a flat to Bhiwandi and raped her in a room, on February 15."
Read Also: Raipur: Man Arrested After Homeopathy Doctor Alleges Rape, Blackmail

Following the alleged incident, the woman, who is an employee of a private firm lodged a complaint with the Bhiwandi taluka police station which has now booked the doctor under rape charges.
PTI reports that a case under section 376 (rape) was registered on February 24th and the police are investigating the case.
A manhunt has been launched for the accused who is absconding; a police official informed PTI.
Read Also: 50-Year-Old Mumbai Doctor Booked For Stalking, Harassing 27-Year-Old Lab Technician
Medical Dialogues had earlier reported that a professor attached to the ophthalmology department at Post Graduate Institute of Medical Sciences (PGIMS), Rohtak had been suspended by the University of Health Sciences (UHS) after he was arrested recently on the charges of sexual harassment.
The ophthalmology professor was recently nabbed by the police on the basis of the complaint filed by a female PG medical student who accused the doctor of harassment and threatening her of failing her in examinations.
Read Also: Rohtak PGI Ophthalmology Professor Arrested For Lewd Calls Messages To PG Medico, Suspended
Source : with inputs