Man posing as UK Doctor on matrimonial app cheats woman of Rs 16 lakh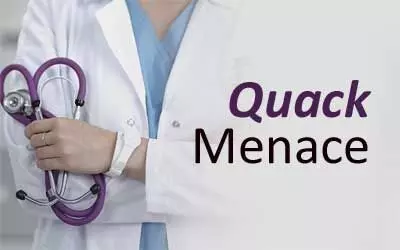 Mumbai: In another incident of quackery, a man claiming to be a UK-based doctor recently cheated a woman of Rs 16 lakh after he met her on a matrimonial site and allegedly promised to marry her and settle down in India.

The case concerns a 33-year-old woman who works as a senior official of a multinational firm in Navi Mumbai. She met the quack via a matrimonial site. The man introduced himself as a UK-based medical practitioner working in a private multispeciality hospital.
The duo was in contact since November 2020.
The victim came close to the man and he allegedly promised to marry her and settle down with her in India.
Times of India
reports according to the woman, the doctor informed her that he was coming to India on January 23rd. The self-proclaimed doctor also called the woman and informed her that he has already made it to Delhi Airport but as he was carrying a huge amount of gold, thus, the customs official took him under custody.
He also added that he will have to pay a fine. The woman, convinced by the words of the fraud, came to the aid of the man and paid him Rs 16 Lakhs via online transaction. The man gave further excuses and reportedly took almost 16.4 lakh from the woman.
However, he did not meet the victim after receiving the amount and cut all contacts. Thereafter, the woman alleged that she tried to call the man several times but he kept his phone switched off. Subsequently, she realized that she was cheated by the man. She then approached the Khadakpada police and registered a case under IT Act and of cheating. Presently, Khadakpada police are taking the help of cyber police to nab the offender.
Previously a similar case was reported by the Medical Dialogues team last year where a young IT professional was duped of Rs 14 lakhs after a man introducing himself as a foreign-based doctor connected with her via a matrimonial site and cheated her. The complainant alleged that the man introduced himself as a doctor of Indian origin and claimed to be working in the United Nations children's fund in Spain.
Source : with inputs