With no fear of coronavirus, Malegaon MLA, 20 supporters barge in hospital to beat up doctor, assault staff; arrested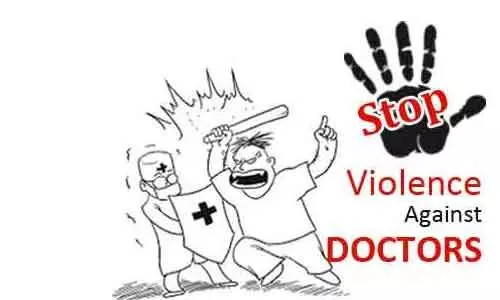 Malegaon: Doctors and support staff working at Malogaon General Hospital dropped their stethescopes and announced a stop work after a civil surgeon was brutally assaulted by the local MLA and his goons.
The news comes ironically at a time when the Finance Minster has announced a Rs 50 lakh insurance for doctors and medical staff engaged in the battle against coronavirus, while there seems to be no insurance or protection for doctors from attacks from goons.
The incident took place late last night when the MLA along with his 20 odd supporters barged in the hospital and assaulted a doctor and threatened the staff. ANI reports that the All India Majlis-e-Ittehad-ul-Muslimeen (AIMIM) MLA Maulana Mufti Ismail was dissatisfied that the doctor was delaying the discharge of two patients from the hospital.
The video where the doctor was being abused, soon went viral on social media, as the entire hospital staff including the doctors sat on a flash dharna and refused to resume serivces at the hospital
#WATCH Maharashtra: Supporters of AIMIM MLA Mufti Mohammad Ismail abused a doctor at Malegaon General Hospital in Nashik. The MLA alleged that the doctor was delaying the discharge of two patients from the hospital. The MLA has been arrested. (Note-Abusive language) (25.03.2020) pic.twitter.com/DszaVCqmEi

— ANI (@ANI) March 26, 2020
The hospital administration then filed a police complaint against Mufti, alleging that a group of people led by the local MLA abused and threatened Dr Dange and also manhandled one of the employees.
Completely denying the charges, the MLA told TIMES NOW "We did not attack any doctors. The hospital authorities should've been more courteous." he further expressed his anger stating that he had called the doctor 18 times, but the doctor did not respond to his calls.
The MLA has finally been arrested reports ANI.
Maharashtra is one of the worst hits state with coronavirus, with the total tally of cases crossing 121 as on 26 th march, 10 am.