Dr Harsh Vardhan inaugurates new infrastructure at RIMS Imphal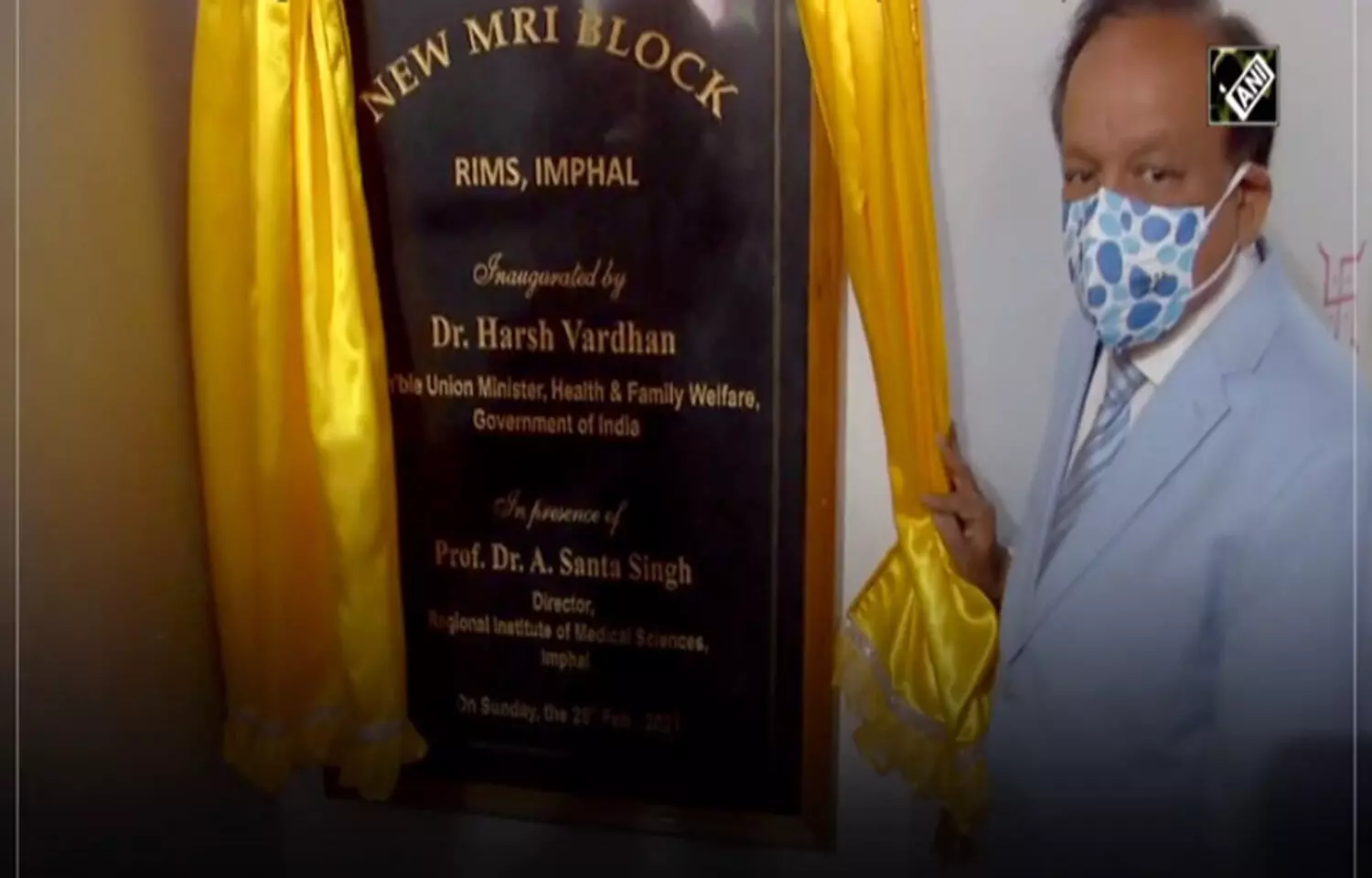 Imphal: Union Minister of Health & Family Welfare, Dr Harsh Vardhan today inaugurated New MRI Block with a 3-Tesla MRI Machine, New PG Ladies Hostel-100 capacity (G+3), New Neuro ICU Block and newly constructed College of Nursing (News Block) at RIMS here.
Speaking on the occasion, Dr. Harsh Vardhan said, the government is working for the development of northeast region.
He said the PM in Cabinet meetings, personally reviews all the plans for every minister. Various Union ministers are consistently and continuously on regular basis, visiting the north-east, drafting plans, and ensuring successful implementation of the programs and schemes.
He said the PM is monitoring every sector including health, education, communication, etc. Ayushman Bharat is one of the most ambitious programme of this government and there's no comparison of this scheme in all over the world.
Around 45-60 crores of poor people of this country have access to any of the 24,000 hospitals of the country under the Ayushman Scheme. Already 1,70,00,000 hospital admissions were recorded and benefitted from this Scheme he added.
Dr Harsh Vardhan lauded the RIMS authority for upgrading the facilities given to the people,
despite the hardships being faced by the authority due to COVID-19 induced lockdown.
The Union Minister assured all possible assistance from his ministry to develop the RIMS as one of the best healthcare centres not only in the northeast region but also in the country.
He said that the Centre had already decided to create 75 new medical colleges in remote

districts of the country where the people continue to suffer for years and are deprived of basic healthcare, education and all other facilities. Manipur will get a new Medical College at Churachandpur.
He appealed to all the staffs of RIMS for full support in eliminating Tuberculosis by 2025 or before the stipulating target year of the Central government.
Director of RIMS Prof Ahanthem Santa Singh presented a progress report of RIMS and highlighted the growth of the institution as well as the relentless services rendered by the staff of RIMS during the COVID-19 pandemic.
He informed that RIMS is in the top 40 list of the National Institutional Ranking among the 500 medical institutions of the country for the last two consecutive years.
Also Read:PM Modi virtually inaugurates medical college building named after Maharaja Suheldev
Source : UNI