SDM threatens doctor for not vacating chair, Doctors demand suspension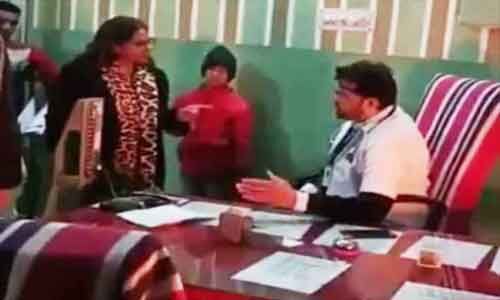 Rajasthan: In a shocking incident, a Rajasthan based Sub Divisional Magistrate (SDM) Pilibanga misbehaved with the on-duty doctor of Community health centre on the mere issue of a chair. The video of this incident soon went viral on social media where the SDM can be seen bragging about her power and shouting at the doctor.
The SDM apparently paid a surprise visit to the Community Health Centre at Hanumangarh. There at the centre, she directed the duty doctor to get up from the chair and sit on another chair. The doctor politely denied this saying that he is treating the patients at the moment. He then requested the SDM to sit on another chair.
The refusal did not go well with the SDM who became furious about his denial and started shouting on him. She even called him "mentally disabled."
"I think that you are a newcomer and recently joined the services. Do you have any idea whom are you talking to? Do you have any idea that we have power to inspect any of the offices in my supervision?" the SDM apparently asked the doctor while bragging about her powers.
The video which captured the entire incident soon went viral on social media, drawing flak from the medical community and the general public alike.
Read also: Former CM Akhilesh Yadav Lashes Out At Emergency Duty Doctor While He Meets Accident Victims
Soon after the local bodies of the Indian Medical Association (IMA) came out in support of the doctor.
While Indian Medical Association, Punjab has requested the Deputy Commissioner of the Hanumangarh district, Rajasthan to take strict actions against the SDM, Vice president of IMA Rajasthan, Dr Durga Shankar Saini wrote to the Chief Minister of Rajasthan requesting for the suspension of the SDM to avoid this type of incidents in future.
I hope the Associations of Doctors stand by this person. Asking for an order of inspection is not a bloody crime. Anyone cannot simply barge in and claim "I am President of India" and she wasted so much of time. Demanding that he stands up? Is she some God? https://t.co/o7oG277Xzo

— Suresh N (@surnell) January 16, 2020
Read also: UP Govt Slams Akhilesh Yadav For Insulting Doctor In Kannauj
Source : with inputs