No Response from Govt: Almost 6,000 TN Medicos hold Black-Badge Demonstration demanding Stipend hike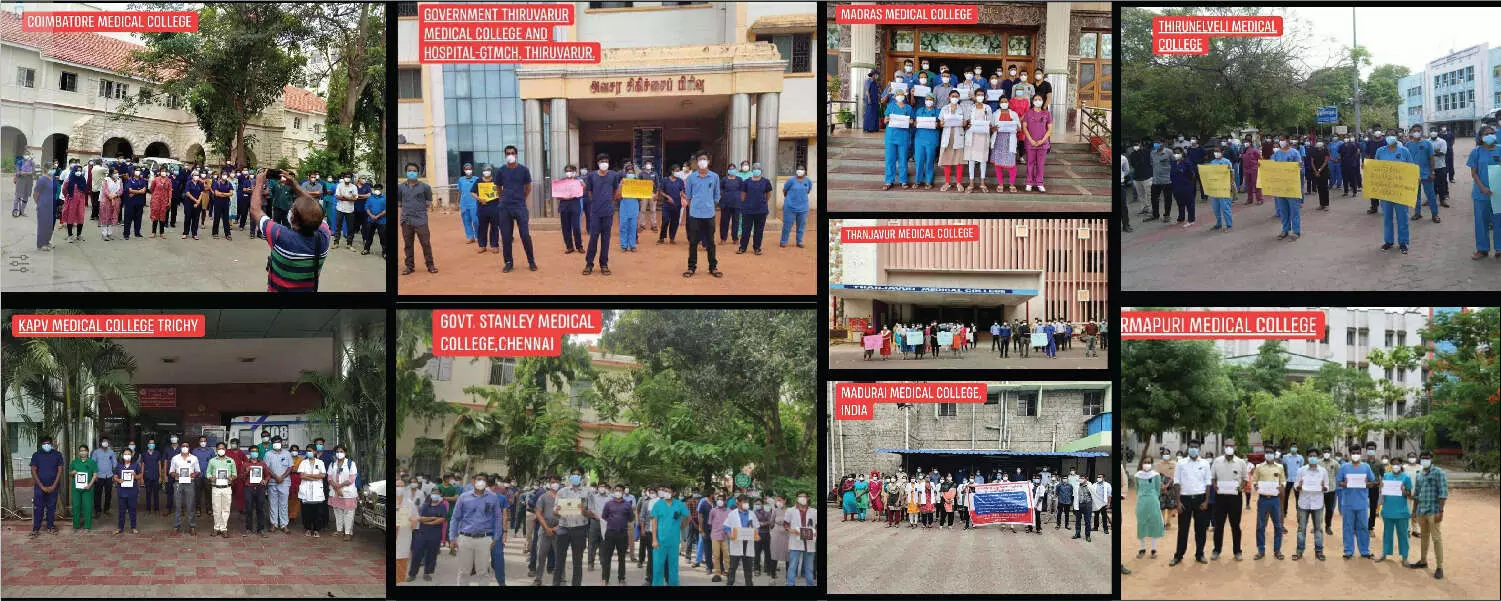 Chennai: Getting no response from the Government regarding their demands for a hike in stipend, resident doctors and medical interns from various government medical colleges in Tamil Nadu organized a black-badge demonstration on Monday so that their voices get heard.

Around 6,000 doctors from 18 Government medical colleges in the State participated in this movement under the banner of Tamil Nadu Resident Doctors' Association (TNRDA). In Chennai alone around 300 doctors took part in the demonstration that went on for two hours.
However, the doctors made sure that no services were disrupted during this, so only off-duty doctors took part in the demonstration organized by these doctors.
Recently, in a letter directed to the Government officials of the State the doctors had expressed their plans for "peaceful demonstration" of their "grief" regarding the stipend of non-service post-graduates and super-specialty doctors and interns (CRRI) by wearing a black badge ribbon on 14.06.2021. Pointing out that the doctors in Tamil Nadu are the lowest paid, the letter further mentioned their demands.
"This BLACK BADGE/RIBBON Demonstration is to hopefully, make the Government notice our demands and meet them as soon as possible, keeping in mind that multiple petitions for stipend hike have been sent to the Govt. over one month," stated the letter.
Medical Dialogues had recently reported that pointing out the hard work by the Post-graduate resident doctors amidst the Covid-19 pandemic, the Tamil Nadu Resident Doctors Association (TNRDA) and Tamil Nadu Medical Students Association (TNMSA) had written to the Government requesting an increase in stipend for Non-Service Post Graduates (MD/MS/MCH/DM) and medical interns.

The PG resident doctors are demanding a stipend hike of at least Rs 70,000- 80,000 per month for Non-Service MD/MS Post Graduates, Rs 80,000-90,000 for the DM/MCh PG residents, and at least Rs 30,000 for the CRRIs along with a yearly increase in stipend.
Also Read: More Work, Less Pay: TN Resident Doctors write to CM demanding stipend hike

Finally, on Monday, almost 6,000 doctors from all across Tamil Nadu took part in the demonstration that was held for around 2 hours so that the Government takes notice of their grievances. The doctors were wearing a black badge or ribbon as a mark of their protest against the amount of stipend that is minimum all across the country.
Doctors from almost 18 medical colleges participated in the movement, including Govt. Stanley Medical College, Madras Medical College, Dharmapuri Medical College, Madurai Medical College, Thirunelveli Medical College, Coimbatore Medical College, Trichy Medical College among others.
Meanwhile, speaking to Medical Dialogues Dr. V Vignesh, General Surgery Resident, Govt. Stanley Medical College and Member of TNRDA said, "The demonstration took place for around 2 hours and we made sure that all the doctors who took part in it were either off-duty or free. So, nobody came out while they were on duty so no services were disrupted."
When asked if they have received any response from the Government yet, Dr. Vignesh added "Although we have come to know that the Government officials are considering our demands, we haven't received any official statement regarding this. So we have to wait for their response."
"Probably this week we are going to meet the health secretary and health minister. Almost 6,000 doctors took part in this so that definitely speaks for our unity and strength. If even after the meeting the government doesn't pay notice, probably we would be forced to protest against the situation. However, we just hope that the Government takes note of our grievances as we don't want to do anything that would be problematic for the Government and the Public," he added.

Meanwhile, Medical Postgraduate student association president, Tamil Nadu, M. Keerthy Varman told IANS, "Tamil Nadu is the best in medical care in the country and we PG students and Medical interns are doing 24-hour work. Most of the PGs have crossed the age of 25 years and are married and stipend is the only source of income. We are not asking for more pay but on par with other states in the country."
Another doctor who is doing Post-graduation in gynecology at a Government Medical College said, "MD and MS students are paid Rs 37,000, Rs 39,500, and Rs 42,000 in the first, second and third year respectively while in Gujarat Medical PGs are paid Rs 84,000, Rs 85,400 and Rs 87,000 a month for the first, second, and third-year respectively. We demand that we are also paid on par with the PG Medicos of Gujarat."

Further mentioning that with this amount of salary the living expenses in Chennai are not being met properly, another doctor said, "I am now 35 and have a family to look after, I am getting a paltry sum with which I cannot manage. If I had gone to a private hospital quitting my studies I would well be getting more than 1.5 lakh a month. This is the main reason why most of the doctors are not continuing to pursue DM or MCh as they will not be able to support their family with the meagre sum and in the long run, the health system of the state will suffer."
While commenting on the situation, a senior health official informed the Times of India that they were provided with a one-time incentive of Rs 20,000 to Rs 30,000 and their food, quarantine expenses at star hotels were also being paid by the Government. Their current demand for the stipend is also being discussed.

Also Read: We are paid a pittance: Tamil Nadu PG medicos demand stipend hike
Source : with inputs