More Work, Less Pay: TN Resident Doctors write to CM demanding stipend hike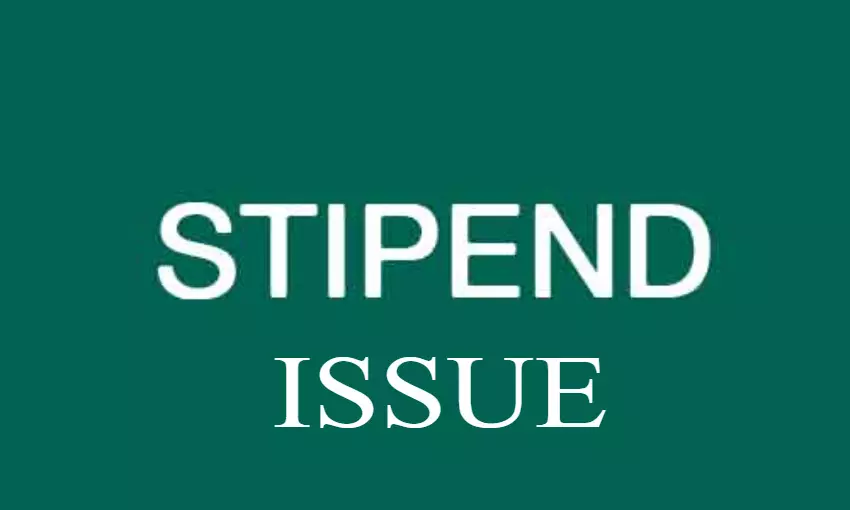 Chennai: Pointing out the hard work by the Post-graduate resident doctors amidst the Covid-19 pandemic, the Tamil Nadu Resident Doctors Association (TNRDA) and Tamil Nadu Medical Students Association (TNMSA) have written to the Government requesting an increase in stipend for Non-Service Post Graduates (MD/MS/MCH/DM) and medical interns.
The PG resident doctors are demanding a stipend hike of at least Rs 70,000- 80,000 per month for Non Service MD/MS Post Graduates, Rs 80,000-90,000 for the DM/MCh PG residents, and at least Rs 30,000 for the CRRIs along with a yearly increase in stipend.
The doctors have already given official representation to the Government officials. However, getting no response till now, they are planning on holding a symbolic black badge protest in the coming weeks to make their voices to be heard. However, they don't intend on suspending the medical services for this purpose, clarified a member of TNRDA while speaking to Medical Dialogues.
The letter by TNRDA, directed to the Chief Minister, has pointed out that the stipend paid to Tamil Nadu PG resident doctors is much lesser than other states like Karnataka, Rajasthan, Andhra Pradesh, Maharashtra, Gujarat, and West Bengal. Although these states have increased the stipend of doctors to a significant amount the PG resident doctors in Tamil Nadu continue to receive the "least stipend in whole of India", even after working for more than 100 hours a week.
"We are mentally stressed and physically fatigued because of the workload during the postgraduate period, additionally the pandemic at the recent times. Stipend amount of average 39000 INR for MD/MS postgraduates and 45000 INR for super specialty postgraduates is adding to the stress," added the letter.
Also Read: House Surgeons call off strike after DME orders medical colleges to give compulsory internship completion certificate

The PG medicos in their letter directed to the Chief Minister have mentioned the reasons for which their request for a hike in the stipend should be considered. Following are the grounds for their demand-

1) The Non-Service Post Graduates are working 365 days and not availing any leave due to the increased caseload (even without considering the current pandemic situation). Though according to the TN MGR university norms, a PG can avail of 52 days of weekly off and vacation for 23 days, i.e., 290 working days per year. 90% attendance out of 290 working days is required to appear in exams. Thus, all postgraduates in Tamil Nadu are overworking and underpaid.
2) The PG residents are working for more than 100 hours a week, so that they are available to manage emergency and elective cases 24 hours a day without sacrificing the quality of care for all patients. Ideally, a post-graduate need not work for more than 48 hours/week and more than 12 hours/day according to the order by the ministry of health and family welfare, the government of India.
3) Most of the students of government medical colleges come from low-income and middle-class families and it is very pathetic to be still dependent on the parents financially after the age of 25 - 28 years for MD/MS students and 29-32 for super specialty students. Financial insecurity has been the reason for depression for many postgraduates in Tamil Nadu in recent times.
4) None of the medical colleges in Tamil Nadu are having a couple friendly hostel, thereby forcing the married students to rent homes outside the campuses which is an additional financial burden. With a meagre amount of stipend, it is becoming impossible for the doctors to take care of the families.
5) The stipend being paid to TN PG Residents is not at all comparable to any other state government or central government medical colleges. Recently, other states like Karnataka, Rajasthan, Andhra Pradesh, Maharashtra, Gujarat, and West Bengal have increased the stipend, acknowledging the service of doctors. Thus, the PG residents in Tamil Nadu are getting the least stipend in the whole of India.
The letter also gives the statistics regarding the amount of stipend paid to the MD/MS/DM/MCh doctors all over India. Whereas the MD/MS doctors in Tamil Nadu receive Rs 37,000- 42,000 as stipend per month, Maharashtra pays Rs 64,551- 65,673, Gujarat pays Rs 84,000-87,500, and Delhi pays Rs 79,144- 83,496 to its PG resident doctors.

On the other hand, the stipend scale for DM/MCh doctors range from Rs 42,000- 47,000 in Tamil Nadu, whereas the same doctors receive Rs 1,00,800-1,12,000 in Gujarat, and Rs 89,634- 1,04,990 in Delhi.
Thus, the tables and figures clearly demonstrate the huge difference that exists in stipend for the PG resident doctors in Tamil Nadu, pointed out the letter.
"Considering the current scenario, stipend paid to doctors of Tamil Nadu is insufficient & lesser compared to other states in India. The stipend-related issues are time and again haunting the resident doctors. We hereby request you to provide a solution to it and let the covid warriors do their job without any thought of stipend issue in their minds," stated the letter.
Speaking to Medical Dialogues Dr. V Vignesh Rajendran, a member of TNRDA said, "The sad thing is doctors are least paid despite their hard work. A similar protest happened back in 2018, and at that time the Government increased the stipend from 28,000 to 35,000. We don't want any official GO, but at least we want an official statement clarifying that the Government will increase our stipend. Although they haven't done anything they are saying that they will increase it making it on par with the neighbouring states. The neighbouring states have been increasing stipend for the last 15 years. In Kerala alone, the stipend was Rs 25,000, and that was 20 years back. Now, the doctors are getting Rs 60,000 in there. Even if the Government increases our stipend by Rs 20,000 we will be half better than the remaining states."

"We have been approaching our Chief Minister, Health Minister, Health Secretary, DME and giving official representations for the past one month but till now we have not received any response. We understand that increasing the stipend of so many doctors is going to be tough for them because of the revenue issue, but we are not asking for anything more than other states. Increasing the amount to a reasonable amount is important to ensure that there won't be any protest a few years down the line. So, apart from the increased stipend, we want at least a 4-5% increase in the stipend every year. If the Government keeps increasing the stipend every year by a reasonable amount, then our juniors won't opt to protest in the future. We don't want them to go through the same what we are facing," he stated.
Stressing upon the need to recognize the doctors who work so hard throughout the year, Dr, Vignesh said, "We work a lot more than 100 hours per week, sometimes we don't even get to sleep for 48 hours straight. Even when the second wave of the pandemic will be over, all the non-Covid cases will come rushing in. This is going to create an enormous amount of pressure on us. We don't want to keep begging for our salaries. Most of the students come from middle-class and lower-middle-class families. We are working hard to study. 37,000 is not enough to cover our rents, cost of food and instruments. Besides we have our families to take care of," he added.
Dr. Vignesh, who is also a General Surgery resident at Govt. Stanley Medical College, further added, "We are planning on a black badge protest in the coming weeks. However, we don't want to suspend services because Tamil Nadu has faced a lot of Covid-19 cases, and suspending the services would be a nightmare for the people. So, there won't be any suspension of services but just a symbolic protest to make our voices heard, and get some assurance from the Government regarding this."
Tamil Nadu Medical Student Association is voicing the same demands and seeking an increase in stipend for the medical interns and postgraduate medical students. Speaking to Medical Dialogues, Dr. Keerthy Varman, President of Tamil Nadu Medical Students' Association (TNMSA) said, "This is the only state where you will see that we are patiently waiting for the past one month so that Government takes cognizance of our problems. We want the increased stipend for PG Resident doctors, CRRIs to start from March 2021. Apart from this, we also want fees waiver for all MBBS students, MD/MS postgraduates, and MCh/DM super-specialty students."
"Also, we request the Government to recognize our services during the pandemic and provide us with a certificate for our hard work for the last one year," he added.