TN: Protests flare up after suicide of 3 NEET aspirants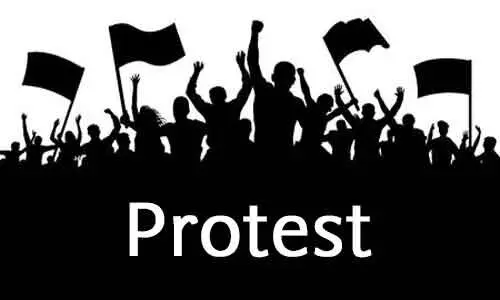 Madurai - On the exam day of NEET 2020, activists of various students' federations and political parties had staged protests against the entrance test across Tamil Nadu, a day after three Medical aspirants ended their lives fearing failure in the exam.
Members of the Democratic Youth Federation of India (DYFI), Student's Federation of India, All India Democratic Women's Association (AIDWA), People's Federation, Tamil Puligal, Viduthalai Chiruthaigal Katchi (VCK) and other outfits resorted to protests in Madurai, Karur, Thanjavur, Tiruvarur, Pudukottai, Kanyakumari, Virudhunagar and elsewhere across the State, according to reports reaching here.
In Madurai, police detained 30 protesters when they blocked vehicular movement at Narimedu, demanding the Centre to scrap the NEET.

Meanwhile, police stepped security at NEET exam centres following widespread protests across the State.
Medical Dialogues had reported that in a series of unfortunate events, the anxiety over clearing NEET 2020 claimed the lives of four aspirants. Three were reportedly from Tamil Nadu, one from Odisha. As per various media reports, three NEET aspirants in Tamil Nadu allegedly committed suicide on Saturday (September 12), a day before they were to appear for the MBBS entrance exam.
According to officials, a 19-year-old woman hanged herself in Madurai. Later in the evening, PTI reported, that two male aspirants, aged between 19 and 21, allegedly died by suicide in Dharmapuri and Namakkal districts.
According to a police officer handling the Madurai case, it was the aspirant's second attempt at the exam and she had been trying to attend coaching classes.
She had hanged herself at her residence on Saturday. As to the reason for her suicide, the aspirant stated in her suicide note that she had prepared well for the exam but was scared of the result. She requested not to blame anyone and conveyed her apologies to her parents for her decision
Meanwhile, two more students from Dharmapuri and Namakkal in Tamil Nadu committed suicide.
In the Dharmapuri case, a 20-year-old NEET aspirant ended his life by hanging. The suicide came to light around 6 pm when his parents returned home from Poosaripatty in Salem district. They found the main door closed from inside. They peeped through the window gaps and found their son hanging from the ceiling.
In another case, 21-year-old aspirant of Tiruchengode in Namakkal also died by hanging himself. He had appeared for NEET twice before.
Also Read:NEET Fear: 4 aspirants commit suicide day before exam

Source : UNI