MBBS dropout arrested for high profile thefts in VIP trains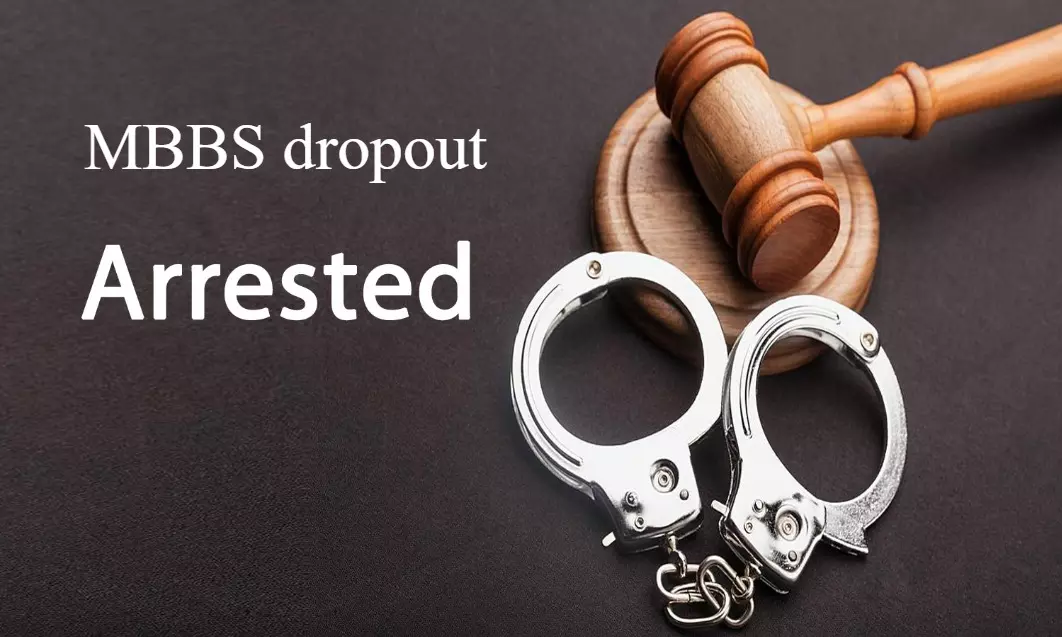 Kanpur: An MBBS dropout along with his accomplice has been put under arrest by GRP Kanpur on Tuesday for committing thefts in VIP trains like Rajdhani Express.

According to a recent media report, the accused has been identified as an MBBS drop out and a native of Jahanabad locality in Pilibhit who used to travel in AC coaches of Rajdhani express impersonating as a passenger. He used to target wealthy victims. The accused was helped by a taxi driver who used to drop him to Kanpur from Lucknow. He used to take a flight from Delhi to return to Lucknow after committing the crime.
However, a recent FIR by BJP MP from Muzaffarpur, whose wife's Rs 3 lakh stolen while they were on board Patna-Rajdhani Express that was in between Kanpur and Delhi stations on October 27 night was a breakthrough, claims Inspector GRP Ram Mohan Rai.
After receiving reports of continuous theft in the same route, police started scanning CCTV footage following the theft of rupees 3 lakhs from the MP's wife in an AC coach of Patna Delhi Rajdhani express on October 27. Police spotted the accused and his movements made the police suspicious of his motives after which they secured the call records of the MBBS dropout and started monitoring his movements strictly. Police also informed all the law enforcement agencies across the state. As per Rai, his last location was traced to Delhi following a fresh case of theft, which took place again in a Delhi bound train on November 1.
Following the information, Police started arranging the trap for him at Chaudhary Charan Singh airport in Lucknow after which he was taken into custody.
During the initial investigation, he confessed his crimes and stated that he used to have a hookah bar in Lucknow which remained closed during the lockdown and he had to pay a heavy debt of 14 lakhs which forced him to take the road of crime.
The accused has been originally connected with a number of such cases where he used to pose as a traveler in AC compartments of trains like Rajdhani express and rob people. Police have already recovered 1.95 lakh from him which he allegedly stole from Patna Rajdhani on October 27th.
Also Read: Plundering Clinics, Stealing Tools: Doctor Couple booked on Counter Allegations

Commenting on the matter, Rai told
TOI
, "In the last few days, many cases of theft from Patna -Delhi bound Rajdhani Express were reported after which several teams were formed for a breakthrough."
Times of India
reports that GRP Rai informed that "During sustained grilling, he broke down and confessed to his crime. He said that he lives in the Vrindavan colony in the state capital and had committed a number of thefts in trains by posing as a traveler. His aide, a taxi driver and hailing from Deoria, used to drop him to Kanpur from Lucknow, He is also being nabbed by the police for assisting him in crime."
He further stated that the accused usually boarded the Delhi-bound VIP trains from Kanpur with a reservation ticket and used to behave like a regular traveler till he identified his victim.
"After de-boarding the train in Delhi, he used to take a flight to return to Lucknow", the official added.
Apart from the 1.95 Lakhs, a car and Rs 80000 have also been secured by the police from his aid. "Initial investigations show that he is involved in several train theft cases. We have rewarded the police team with a cash prize of Rs 50,000," SP GRP Manoj Jha told the daily.
Source : with inputs