Structural, systemic changes needed to achieve SDGs in health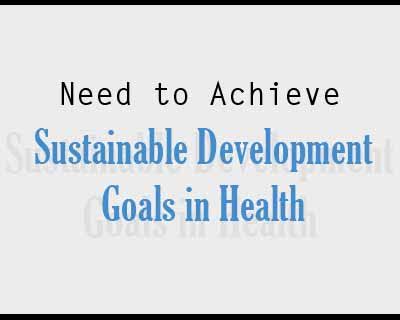 New Delhi: The Centre said "structural and systemic changes" are needed to achieve the Sustainable Development Goals in the health sector and "business as usual" approach will not help it.
"Business as usual will not help in achieving the health agenda under Sustainable Development Goals (SDG). In order to reach the last-mile goals, things will need to be done differently.
"This will require structural and systemic changes in our ways of implementation, of measurement and of governance and aligning the incentives to service providers," Minister of State for Health Shripad Yesso Naik said.
He was speaking at the concluding session of a two-day national consultation on transitioning from Millenium Development Goals (MDGs) to SDGs which was jointly organised by the Health Ministry WHO, UNFPA and UNICEF.
"To achieve the goal of ensuring healthy lives and well-being for all, we have to reach out to the unreached populations and meet their healthcare needs," he was quoted as saying in an official statement.
The minister pointed out that for achieving SDG-3 centred on universal health coverage, the government is working at strengthening access to primary health care at the sub-centre level to provide a comprehensive package of healthcare services.
He said states are being supported to expand access to free drugs and diagnostic services to reduce high out-of-pocket expenditures apart from strengthening district hospitals for multi-speciality to assure continuity of care.
"The continuity of care will run on a robust IT backbone thereby improving efficiency of healthcare. Moreover, measures to reinforce quality of care in public sector facilities such as the launch of National Quality Assurance Programme and the Kayakalp awards are being implemented.
"The new national Health Protection Scheme announced by the government in the budget will help provide affordable health cover for secondary and tertiary care hospitalisations for the poor and vulnerable population, he said.
Naik said there is a need to identify the key strategic approaches that build on the gains which have been made so far, address weaknesses and nudge towards our goals.
He said this will be challenging as it is nearly "impossible" for the governments at central or state levels, working alone to achieve the multiple targets that are bundled in SDG 3.
The minister said that convergence will be required with all sectors that impact health to jointly undertake support and advocacy to build a shared vision.