Students of Goa Medical College to serve 3-year bond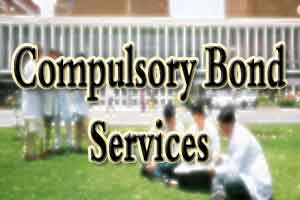 Goa Medical College (GMC) has implemented a new rule of a 3 years bond servicing for its students completing postgraduate degrees or diploma in any faculty.
Under the agreement, the candidate will now be required serve mandatory in a government hospital or any other medical institute under the public health department. Even before expressing his choice to pursue further education, the student will have to complete this
compulsory service
in the said government hospital or institute; set with an objective to address the shortage of doctors in the
primary health centres
in the rural belt of the area.
The
Public Health Department
has even issued a fresh notification to remove any loophole, regarding many doctors who did not wish to be a part of the bond agreement. The notification explicitly implied to say that no exemption shall be granted under any circumstances. No excuse of pursuing higher studies will also be taken into consideration.
Further, the candidate will be directed by the public health department to serve the bond within six months of the date of completion of the postgraduate course. Only after serving the stipulated period of service under the bond, a doctor is allowed to pursue his own chart of plans.
Though the public health department has been executing bonds for the last three years, a health official said many, after completion of their PG or diploma courses, have left without serving their bond on the grounds that they want to study further, as reported by the
TOI
.
A health said that the public health department should do well not to delay issuing the order as delay it would allow successful candidates to decline any posting given as part of the bond.
He said the public health department which has been currently facing a shortage of doctors, particularly specialists, can benefit in a big way if it diligently starts executing bonds.
A senior medical practitioner posted in South Goa said that the problem of non-availability of doctors in primary health centers in the rural belt can be taken care of to a large extent if doctors completing their diplomas and postgraduate degree courses are posted there.