A rare case of diffuse neurofibroma with diaphragmatic eventration:BMC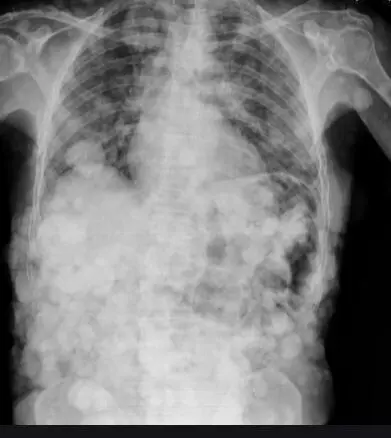 A recent case report, published in BMC Surgery, has highlighted a patient of diffuse neurofibromatosis which eventually penetrated the diaphragm .

Neurofibromatosis type 1 (NF1) is an autosomal dominant condition with a birth incidence of approximately 1:3000 . NF1-associated nerve sheath tumors include externally visible circumscribed cutaneous and subcutaneous neurofibromas that vary from few to innumerable and can evolve into infiltrative diffuse masses of varying sizes, the latter of which are termed diffuse neurofibromas, and often contain Meissner corpuscles . Disease penetrance is virtually 100% in adults with NF1, although there is great phenotypic variability in neurofibroma disease burden among patients, even those carrying identical NF1 germline mutations. Cutaneous and subcutaneous neurofibromas generally start to appear in late childhood and can grow in size and number throughout adulthood
Diffuse neurofibroma of the epidermis invading deeper organs is rare. In the current report, a team of physicians headed by Xian-shuai Li,from Jinhua Hospital, Zhejiang University School of Medicine, China,have put forth a case of diffuse subcutaneous neurofibroma in the thoracoabdominal wall which had invaded the diaphragm and caused diaphragmatic eventration.
The team presented a A 24-year-old male presented with diffuse skin lesions on the chest and abdominal walls from the age of 8, accompanied by pigmentation and epidermal nodular hyperplasia. Because of sudden spontaneous swelling and pain in the left upper abdomen that could not be relieved by rest or changing body position, he went to the emergency department
The emergency chest and abdominal enhanced CT scan showed the following: possible left diaphragmatic hernia; partially inflated left lung; massive left abdominal mass with hemorrhage, with the left 9th/11th ribs partially absorbed; left chest and back subcutaneous soft tissue thickened with an abnormal density; and bleeding nodules (shadow) on the chest and back skin.
On Physical examination it was evident that the breathing sound in the left lung was not clear, very large diffuse skin lesions with brown pigment spots in the left chest and abdomen, a large number of fibromatous hyperplasias on the epidermis.
The possibility of a diaphragmatic hernia caused by spontaneous diaphragmatic rupture was suspected. Thoracotomy was performed and found that the neurofibroma had invaded the diaphragm and caused diaphragmatic eventration.
The postoperative abdominal pain disappeared and the incision healed well, and the patient was discharged 10 days after surgery.
"This occurrence has not been reported, and it shows that although neurofibromatosis is a benign disease, it still has the biological behavior of a malignant tumor and may cause a serious impact on and damage to other organs."the team concluded.
For full article follow the link: https://doi.org/10.1186/s12893-021-01258-4
Primary source: BMC Surgery
Source : BMC Surgery