Early surgical resection- a benefit for Giant Liver Hemangiomas: Case report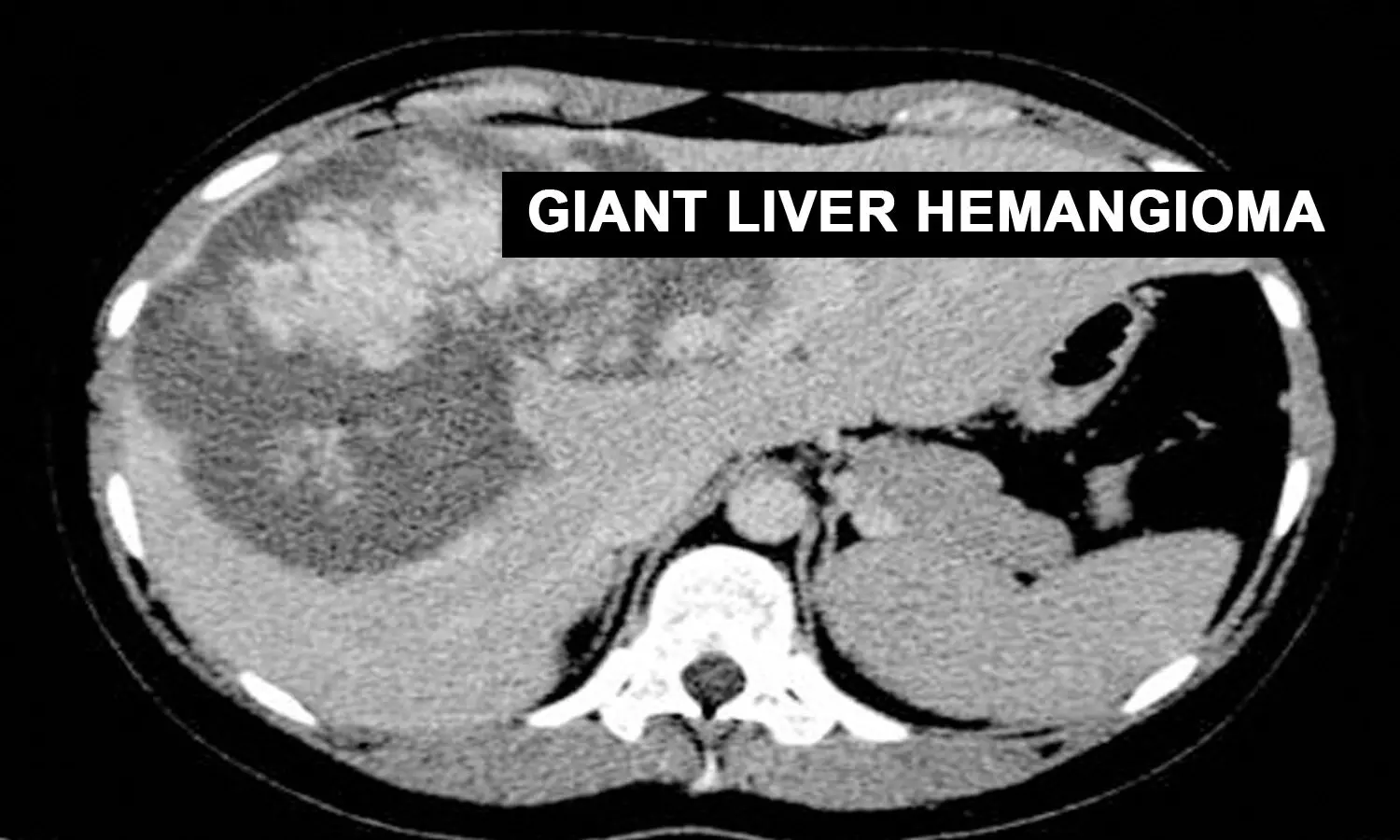 Alvin Chang et al from the Virginia Commonwealth University reported a case of rapidly enlarging Giant Liver Haemangioma which was managed by surgical resection. The case was presented in the journal, 'Case reports in Surgery' 2020.
Early surgical resection (or enucleation) should be considered for giant hemangiomas by recognizing early signs before they cause irreparable anatomic distortion of liver parenchyma.
Hemangiomas in the liver are the most common, benign mesenchymal hepatic lesions occurring in various sizes. Giant hemangiomas which occur from > 5-10cm size may cause abdominal pain, congestive heart failure, or even Kasabach-Merritt Syndrome which is a life threatening condition. Present guidelines advocate conservative management of asymptomatic giant liver hemangiomas via serial imaging to monitor growth where as symptomatic cases are treated by resection.
Also Read: Jubilant Life Sciences gets DCGI nod to JUBI-R for treating COVID-19 patients
A 37-year-old female with a known history of giant hepatic hemangioma was referred with a year old history of aggravating abdominal pain associated with progressive nausea, weight loss and constipation. The patient was treated conservatively for lumbar disk herniation and newly diagnosed irritable bowel syndrome. Examination of the patient revealed generalized distention with a palpable liver edge below the right subcostal margin. She was pale, malnourished and with lumbar lordosis during examination.

Magnetic resonance imaging (MRI) of the abdomen revealed a huge mass located in the right posterior hepatic lobe consistent with giant hemangioma and review of the previous records showed its steady growth. Due to enormous tumor size, the mass was explored by anterior approach and resected. Liver parenchyma was transected using an ultrasonic surgical aspirator. Pringle maneuver and low central venous pressure anesthesia were used to limit the blood loss during surgery. The 3.7kg specimen was removed and later sent for histopathologic examination to confirm cavernous haemangioma. Post operative findings were uneventful and the patient was discharged. Her six month follow up showed resolution of her abdominal pain and improved bowel function except for mild lower back pain due to lumbar disk herniation.
This case throws a light on how progressively enlarging hepatic hemangiomas may benefit from early surgical resection prior to presentation of typical symptoms.
For further reading, click the following link: https://doi.org/10.1155/2020/5923787
Source : Case reports in Surgery