Idiopathic, acute peritonitis treated with laparoscopic peritoneal toileting: case report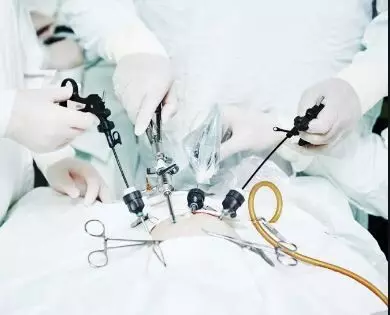 A case of acute peritonitis of unclear origin has been successfully treated by the Laparoscopic approach, according to a recently published report in the International Journal of Surgery Case Reports.

Peritonitis refers to the peritoneal inflammation and a common cause of surgical emergency which was traditionally managed by exploratory laparotomy. The paramount concern in management is to relieve the patient from the toxins and bacterial loads from the abdominal cavity and control of the source as early as possible. Any improper evaluation and interventional delay might have a fatal outcome.
Emergency laparotomy exploration is indicated to control the source of sepsis even in diagnostic uncertainty. It is an accepted fact that laparoscopy under local anesthesia is also useful in acute peritonitis to visualize the whole abdomen and pelvis providing the diagnosis which might be missed in conventional imaging.
A 32-years-old man was admitted to Jahurul Islam Medical College Hospital, Bangladesh, with complaints of severe and diffuse abdominal pain associated with mild fever for the last 8 h. He reported no bowel movement within the last 24 h and respiratory discomfort for one and half an hour. His vitals were stable with signs of mild dehydration. His abdomen was not distended but it was tender all over.
Physicians suspected it to be a case of idiopathic secondary acute peritonitis. Initial treatment started with an intravenous crystalloid infusion with antibiotics (cefoperazone + metronidazole) and analgesics.
Radiographic investigation (with Plain chest and abdominal radiograph) with abdominal ultrasound appeared normal. Hematological and biochemical parameters revealed neutrophilia, mildly raised serum lipase, normal liver and renal function, and no electrolyte imbalance.
CT abdomen revealed a significant amount of collection in the right sub-phrenic, subdiaphragmatic, and pelvic area, suggesting ascites, but no definite diagnosis could be made.
Doctors planned a Diagnostic laparoscopy proceeded with modified direct initial trocar access through the umbilicus. Appendicectomy was performed followed by thorough peritoneal irrigation with 2 L of warm normal saline and finally, a drain tube (DT) was placed in the pelvis. Surprisingly the etiology remained unclear. Following laparoscopy, he responded well with an uneventful recovery.
Exploratory Laparotomy has been the mainstay of surgical management in acute peritonitis. And laparoscopy had been considered relatively contraindicated because of poor vision, inadequate peritoneal toileting, increased sepsis, time-consuming, post-operative adhesions, and late complications. But the recent trend is inclining more towards the laparoscopic management in acute peritonitis.
The doctors highlighted that "This case report might encourage many surgeons to consider the laparoscopic approach in peritonitis with confidence and to perform further studies."
For the full article click on the link: https://doi.org/10.1016/j.ijscr.2020.05.089
Primary source: International Journal of Surgery Case Reports
Source : International Journal of Surgery Case Reports